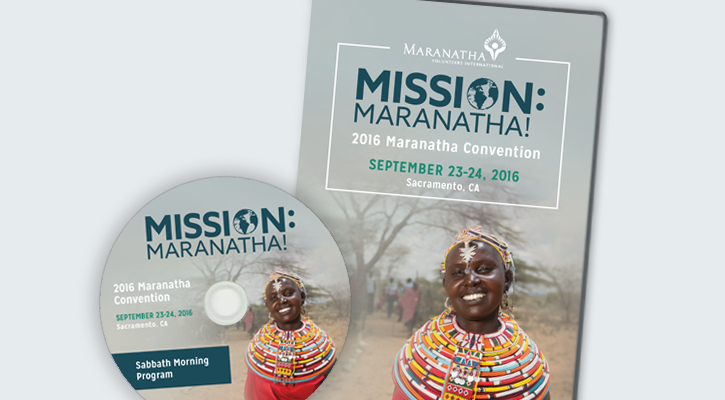 Mission: Maranatha, in Sacramento, California, was a weekend filled with uplifting testimonies and music, and if you missed it, you can catch it online or on DVD. The convention is now available for viewing on Maranatha's website, Roku, or DVD.  
From Guyana to Kenya to the far northeastern corner of India, Seventh-day Adventist Church leaders from around the world gathered at the convention to thank Maranatha Volunteers International for providing churches and schools in their regions. The leaders talked about the impact of Maranatha's work in their country.  
'Wherever we see Maranatha at work, we see the Gospel in action. Wherever we see Maranatha at work, we see the good news being expressed tangibly. Wherever we see Maranatha at work, we see God's people proclaiming and demonstrating the reality of the everlasting Gospel,' said Alain Coralie, secretary of the Adventist Church in East-Central Africa, where Maranatha is currently building churches, schools and water wells in Kenya.
In addition to church representatives, the weekend featured the testimonies of nine volunteers. They told stories from their personal experience on Maranatha mission trips. Twelve-year old Anella Poljak was the youngest speaker. She spoke about watching Maranatha Mission Stories, at the age of 7, and begging her parents to go on a project. She finally got her chance in 2012, when her parents surprised her with a trip to Nicaragua for the Christmas Family Project. Since then, she has been on five more mission trips with a sixth scheduled for December.  
'I am grateful to Maranatha for the opportunity to experience mission in such a way at my young age. I love reading the stories of missionaries around the world, but I discovered that serving and giving is learned better through action in the real world,' said Poljak.
The audience also enjoyed the music of Christian Edition, a choral group from Southern California, led by Calvin Knipschild. The choir performed throughout the weekend and gave a concert on Sabbath afternoon.
The entire convention was broadcast live on 3ABN and Hope Church Channel, and streamed live from the Maranatha website.
Watch the program online or order a free DVD.