Maranatha Convention 2016

You're Invited to Celebrate Missions with Maranatha
Join Maranatha for our annual convention, September 23-24. You won't want to miss this weekend of touching volunteer testimonies, fascinating reports about where Maranatha is currently working, and stories about how your involvement is changing lives around the world. Featuring musical guest, Christian Edition.
We'll also be offering a separate Children's Program during the Sabbath morning program, from 10 a.m. to 12:30 p.m., for kids ages 4-10 years.
PLEASE NOTE LOCATION ADDRESS:
Mission: Maranatha!
2016 Maranatha Volunteers International Convention
Trinity Life Center
5225 Hillsdale Blvd.
Sacramento, CA
Admission is free.
We are no longer accepting online registrations, but the convention is still open to all who would like to attend. Registration will be available at the church.
Weekend Schedule
September 23, 2016
3:00-4:30 p.m. | Seminars
4:30 p.m. | Registration opens
7:30-9:00 p.m. | Friday evening program
September 24, 2016
10:00 a.m.-12:30 p.m. | Sabbath morning program
10:00 a.m.-12:30 p.m. | Children's program (ages 4-10)
12:30 p.m. | Free lunch
2:00-4:00 p.m. | Christian Edition music concert and afternoon program
About the Musical Guest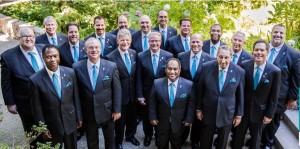 Directed by Calvin Knipschild, Christian Edition is a men's chorus based in Glendale, California. The group started in 1981 with 16 men presenting a song as a birthday gift to their pastor. The response to that one song was so great that what was supposed to be a one-time event has turned into a thirty-four-year musical ministry. The group has presented concerts across the United States including the Russell Senate Office Building in Washington D.C., Focus on the Family Headquarters in Colorado, The St. Louis Convention Center and Mt. Hermon Christian Conference Center in Santa Cruz, California. The group's fourteen recordings are heard on Christian radio and television stations worldwide.
Seminar
You're invited to join one of our free seminars, offered on Friday afternoon, September 23, 2016. You can sign up for these sessions when you register for the convention.
Wealth Management Techniques for Any Weather
Learn the importance of creating a trust and why proper estate planning can benefit you and your family. Presented by Tamara Vukojevic, private wealth manager for Creative Planning, Inc., a nationally recognized leader in the wealth management community, focused on providing clients with customized investment plans and comprehensive wealth management services
Planning a Maranatha Mission Trip
Learn the basics of how Maranatha works with your team to organize a mission trip. Listen to Maranatha field staff describe project opportunities for 2017 and dialogue about the specifics of leading volunteers to Kenya, India, Dominican Republic, Guyana and Uruguay.
Register Now