Maranatha Convention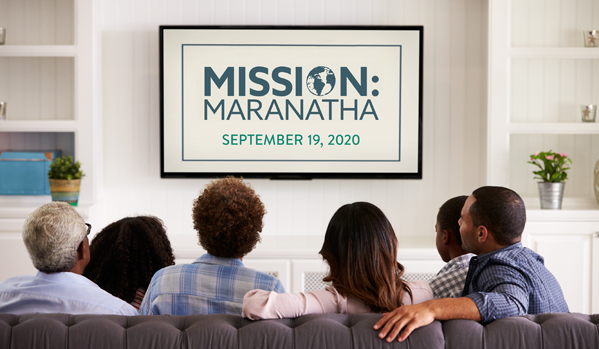 Mission: Maranatha–Virtual
September 19, 2020
This year, join Maranatha's annual convention event, straight from your living room. On September 19, watch Mission: Maranatha, a two-hour broadcast special, featuring volunteer testimonies, stories of the work our crews are doing in the mission field, and ways that you can stay involved in the mission, even from home. 
Our annual gathering inspires and informs all who attend, and we know that you will be blessed to learn how the mission is being moved forward around the world–even during a pandemic–and how you can help. Look for more convention events to be announced in the coming weeks.
Where to Watch (all times Pacific):
3ABN – 2-4 p.m. (additional airing on September 20 at 5-7 p.m.)
Hope Channel – 2 p.m. (additional airing on September 25 at 7:30 p.m.)
Blue Mountain Television – 5 p.m.
Facebook – 2 p.m.
YouTube – 2 p.m.
On Demand (starting September 19 , 2 p.m.):
The Maranatha Channel on Roku, Apple TV, Amazon Fire TV
The Maranatha Channel app for iPhone and Android
Maranatha.org/missionmaranatha
Maranatha Virtual Lobby
September 19, 4:30-5:30 p.m.
At our traditional convention, our favorite time is when we gather in the lobby after the program to see old friends, meet new people, and talk about upcoming volunteer opportunities. This year, join us after our broadcast in our virtual lobby to talk with our staff about mission trips, various country projects, and the mission of Maranatha. (Registration link coming soon)
Free Estate Planning Seminar
September 18, 11 a.m.-noon
Estate Planning During Covid | Our experts will share how to best plan for your future during such an unprecedented time. (Registration link coming soon)