History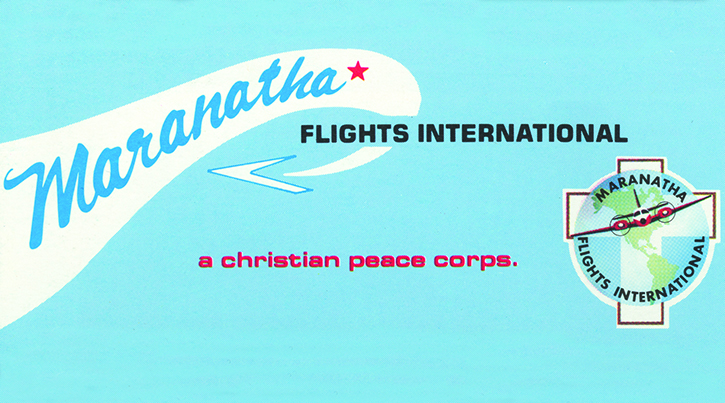 Service Takes Flight
In 1969, John Freeman decided he wanted to take his family on a mission trip, specifically so his daughters would have an opportunity to understand the value of service. The concept of a short-term mission project wasn't new, but Freeman put a twist on it: he wanted everyone going to fly their own planes. By trade, Freeman, who lived in Berrien Springs, Michigan, had a business focused on photography and printing. But he was also an amateur pilot. So he contacted all the private pilots he knew and asked them to fly down with volunteers to help build the Eight Mile Rock Seventh-day Adventist Church in Grand Bahama.
So a small team of 28 young people flew to the Bahamas over Christmas break and built a church.
The project was the inaugural trip of Maranatha Flights International, an organization of volunteers who would fly their private airplanes to build churches around the world. People called it the Christian Peace Corps, and the concept grew in popularity among Adventists.
In 1973, Maranatha organized a large-scale project in Yellowknife, Canada, to build a church. Nearly two dozen small  planes flew into the Northwest Territories, and the event caught the attention of Adventist Church leadership. Maranatha was brought into the spotlight, and the concept gained traction in the public eye.
In 1982, the board hired Don Noble to begin running the organization, which was based in Berrien Springs. At the time, the office had a staff of two, and they were organizing just a few projects a year. Then in 1989, Maranatha Flights International merged with Volunteers International, a Virginia-based humanitarian organization. The organization was renamed Maranatha Volunteers International; in the same year, Maranatha headquarters moved from Berrien Springs, Michigan to the Sacramento region of California.
Revolutionizing Missions
A few years later, Maranatha embarked on a project in the Dominican Republic that changed the organization's approach to construction. At the urging of a board member, Noble organized a multi-church construction approach in the Dominican Republic. In 1992, 1,200 volunteers converged on the capital of Santo Domingo to construct 25 urgently needed churches. The effort was a huge success and a watershed moment for Maranatha. From that moment on, the organization moved from doing a couple of projects a year to concentrating efforts to build multiple churches in each country it entered.
Throughout the 1990's, thousands of people got involved with Maranatha projects. Partnering with the Adventist World Church, large-scale projects were completed in numerous countries.
In 2008, Maranatha unveiled the One-Day Church, a church frame and roof kit designed to be built in a day. Made of galvanized steel, easy to construct, and relatively affordable, the One-Day Church concept caught fire. Two years later, Maranatha launched the One-Day School.
The resulting increase in infrastructure met a crucial need for congregations around the globe. Additionally, Maranatha introduced many church and school groups to short-term missions.
Today, Maranatha organizes approximately 50 mission trips each year and more than 2,400 volunteers participate. Thousands more support the mission work through donations. Over the history of the entire organization, nearly 70,000 people have volunteered on a Maranatha project.
A Timeline of Maranatha's History
1969 | John Freeman and 28 other volunteers fly private planes to Grand Bahama to complete construction on the Eight Mile Rock Church in Freeport. This becomes the inaugural trip of Maranatha Flights International, an organization of volunteers who fly their private planes to construction projects around the world, created by Freeman.
1973 | Maranatha organizes a large-scale mission project in Yellowknife, Canada, that brings in hundreds of volunteers. It draws the attention of Seventh-day Adventist leadership, and the Maranatha concept begins to gain traction in the public eye.
1970s | Maranatha organizes a few mission trips per year in various locations around the world.
1980 | Following Hurricane David, Maranatha builds 110 houses in Dominica (led by Roger Hatch) and later 160 houses in the Dominican Republic (led by Van Vanden Heuvel).
1982 | The board hires Don Noble to run Maranatha. The office is a staff of two people.
1989 | The Maranatha Flights International board merges with Volunteers International, a Virginia-based humanitarian organization, and is renamed Maranatha Volunteers International. Later that year, Maranatha headquarters move from Berrien Springs, Michigan, to Sacramento, California.
1992 | Maranatha sends multiple groups over 70 days to build 25 churches in the Dominican Republic. Dubbed Santo Domingo '92, it is the first time Maranatha has concentrated its efforts in one place for multiple volunteer projects.
1996 | Maranatha launches a partnership with the Commonweal Foundation to build a large, multi-classroom school building in underserved communities of developing nations. The first Commonweal school, also called Education and Evangelism Centers, is built in Panama.
2004 | Maranatha Mission Stories is born. The episodes air monthly and are available on VHS tapes.
2007 | After a year hiatus, Maranatha Mission Stories returns as a weekly program.
2008 | Coinciding with a new large-scale effort in Mozambique, Maranatha beings drilling wells in June where we build churches and schools in the country.
2008 | The first One-Day Church is built in Valle Hermoso, Ecuador
2009 | Maranatha moves its headquarters to a larger space in Roseville, California.
2010 | Maranatha ships 188 One-Day buildings to Haiti in response to requests for help following the devastating earthquake.
2011 | The First One-Day School campus is built in Victoria Falls, Zimbabwe.
2014 | Maranatha's second water well effort begins in Zimbabwe, where Maranatha is building churches and schools.
2016 | In the summer, Maranatha organizes the first volunteer project in Kenya, kicking off a brand new construction effort in the country. Maranatha also begins drilling wells in Kenya.