South America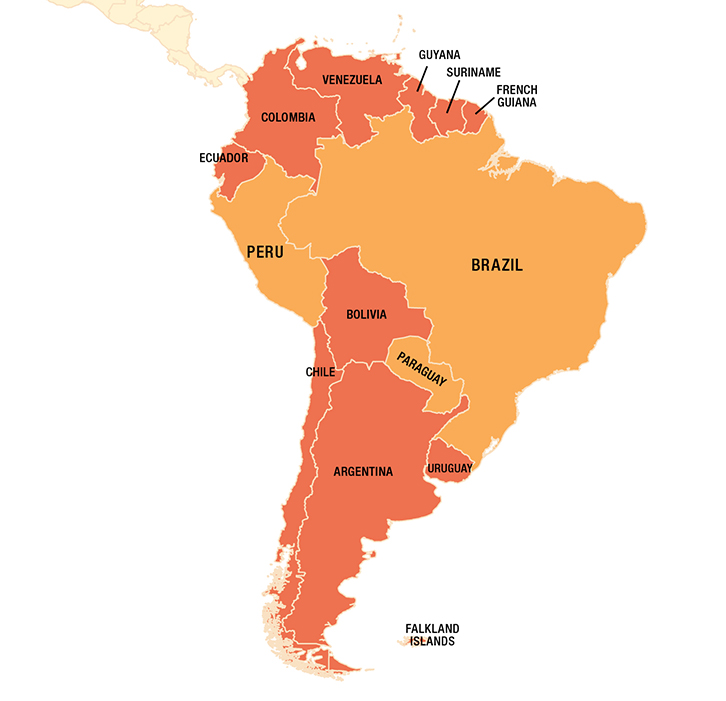 Bolivia
Bolivia first received the Seventh-day Adventist message in 1897, when a literature evangelist entered the country with copies of Patriarchs and Prophets and Steps to Christ. But it wasn't until 1907 that Adventist missionaries, Edward W. Thomann and his wife Flora, were assigned to Bolivia.
Today, Bolivia is home to over 120,000 Seventh-day Adventists. Many congregations are meeting in rented spaces or in churches that are too small or run-down. This often creates problems when trying to evangelize and invite community members to church services.
In response to a request from the Adventist church in Bolivia, Maranatha will begin mobilizing volunteers to build churches in Cochabamba, located in central Bolivia. Eventually, Maranatha will branch out to serve other parts of the country, including La Paz.
Capital: La Paz
Population: 11 million
Adventist membership: 123,837
Related:
Watch: The Mission in Bolivia
Brazil
Brazil has the second largest Seventh-day Adventist membership in the world with more than one million members. But this number is about to grow and Brazil Adventist leadership is embarking on a massive effort to plant 1,000 new congregations in the eastern part of the country. The plan is to mobilize lay-missionaries to towns where there is no Adventist presence and then establish a congregation. As part of the big push, Brazil has asked for Maranatha's help in building churches.
In April 2015, Maranatha launched a Portuguese-language version of Maranatha Mission Stories, Maranatha's weekly television program focused on service and missions. Maranatha Histórias de Missão is broadcast on Novo Tempo, a Christian television and radio network headquartered in Brazil. The show has introduced a new audience to Maranatha's work, generating national interest in mission trips. In August 2015, the first team of volunteers from Brazil went on a Maranatha mission trip. Since then, several more Brazilian teams have served on projects.
In 2015, Maranatha completed work on a large Education and Evangelism Center in northeastern Brazil.
While Maranatha's work has primarily focused on churches, volunteers constructed a school in northeastern Brazil in 2015. Currently, Maranatha is continuing to build One-Day Churches all over Brazil.
Capital: Brasilia
Population: 202.6 million
Adventist membership: 1,240,880
Related
Watch: Building in South America
Read: Maranatha Debuts Portuguese-language TV Show
Guyana
Guyana boasts the fastest-growing Seventh-day Adventist membership in the Caribbean Union. Church members here are passionate about the Great Commission, yet they are are held back by inadequacies of the local church buildings. Deterioration and makeshift spaces lead new members to leave and potential members to decline invitations until a real church exists.
Education is also a concern. The Adventist Church in Guyana has not operated any schools since 1976, when all schools were brought under control of the government. Yet, parents long for their children to attend an Adventist-operated school where they will be in a spiritual environment every day.
In 2018, Maranatha will build churches in the towns of Mahaica, Swan, Belle West, and several other communities in Guyana. A new school will be built in Georgetown, across the street from the Adventist hospital.
Capital: Georgetown
Population:  737,718
Adventist membership:  64,409
Related Videos
A church building in Canoa Quebrada, Brazil cements the Adventist presence in this tourist destination
Meet two Christians whose dedication to missions sometimes meant waiting for God's timing.
Recent News & Events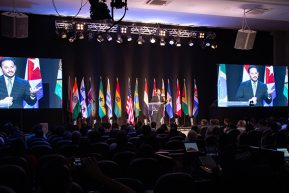 Speaking to a crowd of 300 people, Erton Köhler, President of the…
Continue Reading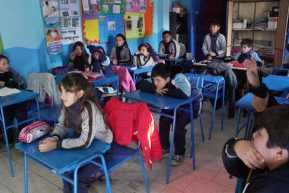 In 2017, Maranatha will begin work in the South American country of…
Continue Reading