Africa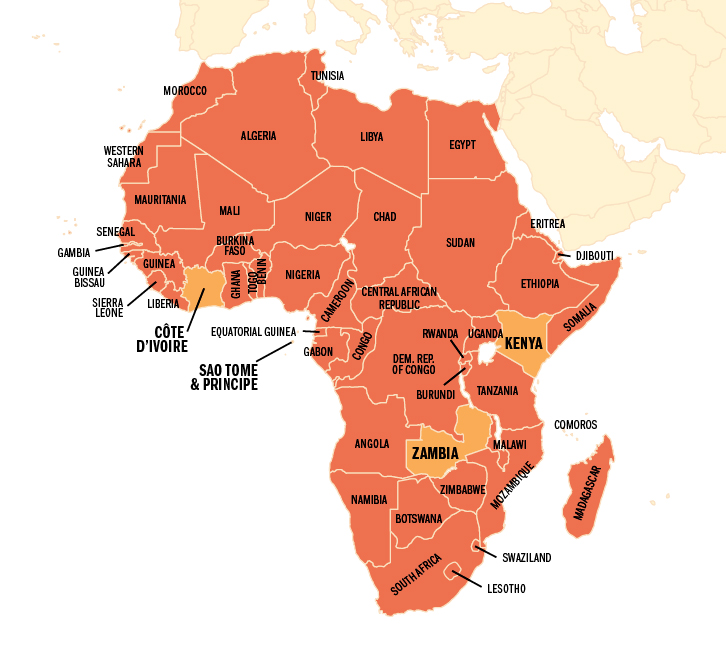 Angola
After decades of civil war, Angola has been working toward rebuilding the country's infrastructure. This task includes providing new schools for a generation of children who have not had opportunity for education.
Before the war, the Adventist Church ran about 200 schools; it was among the largest school systems in the country. But all of the facilities were destroyed, and now children meet in makeshift classrooms wherever there is space.
As for churches, there are more than 400,000 baptized members in Angola. But there is a shortage of places to worship. In Luanda, the country's crowded capital, hundreds of people cram under trees or sit in an open lot, using umbrellas for protection from the sun.
In 2012, the Adventist Church in Angola requested Maranatha's assistance in building churches and schools, primarily in and around Luanda, and the first One-Day Church kits were built in mid 2013. But construction materials in the country are expensive, as are most things in Angola. The booming oil industry has attracted investors from around the world, creating new wealth and a high cost of living. But the majority of the population lives in poverty.
Yet the people of Angola are finding hope in their faith communities, and Adventist membership continues to grow. It is critical that we help to provide church buildings and Christian schools so that they may be places of recovery and restoration.
In 2014, Maranatha began also building churches in southern Angola, where there is extreme poverty.
Maranatha is planning to wrap up church projects in Angola in early 2017, and the rest of the year will be focused on the construction of school classrooms.
Capital: Luanda
Population: 19 million
Adventist membership: 430,171
Related:
Watch: Angola: Building for Tomorrow
Read: Trees as Classrooms in Angola
Egypt
In 2017, Maranatha is responding to a request from the Seventh-day Adventist Church in the Middle East to build classrooms at Nile Union Academy.
Located in Cairo, Nile Union Academy has been providing quality Christian education for more than 60 years. They are in need of more space, and Maranatha will assist by constructing three classrooms.
A small group of volunteers will be assisting with this project in March 2017; this will be Maranatha's first mission trip in Egypt.
Capital: Cairo
Population: 94 million
Seventh-day Adventist membership: 853 (including Sudan)
Kenya
In late 1906, a missionary named Arthur Carscallen arrived in eastern Africa to share the Adventist message with the people of Kenya. In the next two decades, Carscallen established several mission stations in the country.
More than a century since Carscallen's pioneering work, the Adventist Church in Kenya is thriving with more than 800,000 members. Now, church leadership is requesting Maranatha's help in providing churches, schools, and water wells for this growing population. In 2016, Maranatha is planning to construct 70 churches and 15 school classrooms.
In 2016, Maranatha kicked off the first volunteer project in Kenya in July, with a second following in August. Projects focused on building One-Day Churches for congregations and dormitories at existing schools. Crews also began drilling wells in communities without access to clean water.
Volunteers and crews will continue working in Kenya in 2017, with focus on churches, schools, and wells.
Capital: Nairobi
Population: 45.9 million
Adventist membership: 824,185
Related:
Watch: The Call to Kenya
Watch: Connecting in Kenya
Read: Volunteers Build Dorm for Kenya School
São Tomé and Príncipe
Located about 150 miles off the western coast of central Africa, São Tomé and Príncipe is a small country of islands. But this tiny tiny place is home to a thriving population of Seventh-day Adventists. However, they need more churches. Out of 70 congregations and groups, 50 need a permanent and more appropriate place of worship. Starting in 2018, Maranatha will be mobilzing volunteers to build churches and school classrooms in the capital city of São Tomé.
Capital: São Tomé
Population: 201,025
Seventh-day Adventist membership: 7,012
Related:
Watch: Maranatha in São Tomé and Príncipe
Watch: The Mission in São Tomé and Príncipe
Zimbabwe
Maranatha started working in Zimbabwe at the start of 2011. Since then, volunteers have constructed one Education and Evangelism Center (EEC) in Bulawayo, which will open shortly. In addition to the large EEC, volunteers and Maranatha staff have built more than 300 One-Day Churches throughout the country.
Zimbabwe is one of the world's poorest countries. Seventy percent of their population lives below the poverty line, and it has an unemployment rate of 80%.
Yet Zimbabwe is working hard to improve their situation, and one of the roads to progress is through education. This emphasis on learning has a drawn people to Seventh-day Adventist schools. Adventists schools have a reputation for offering top-notch educational programs. In fact, Zimbabwe's first private university and the nation's largest, is Solusi University, established and operated by the Adventist Church.
The increasing interest in Adventist education has created a need for more schools, and Zimbabwe church officials have requested Maranatha's help for more classrooms. Additionally, they have asked for more churches since a growing Adventist educational system usually leads to increase membership.
In 2014, Maranatha announced a new effort to provide water wells in communities where a school or church has been constructed. Today, Maranatha is continuing to drill wells and provide volunteer opportunities in Zimbabwe, including construction projects.
Capital: Harare
Population: 13.7 million
Adventist membership: 747,277
Related:
Watch: Water for the Thirsty
Watch: Building in Southern Africa
Read: 80-year Wait for Church Comes to End
Related News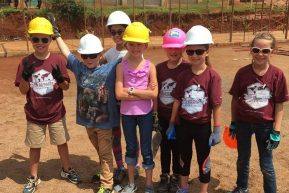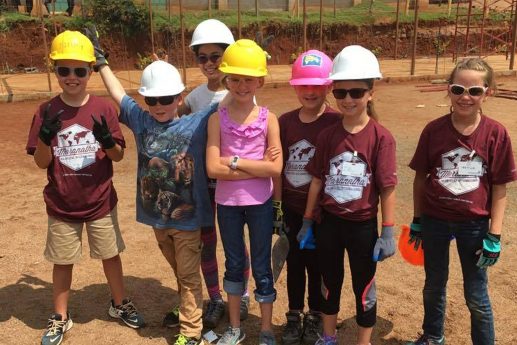 In July, 113 volunteers on Maranatha's Family Project served at Getare Seventh-day…
Continue Reading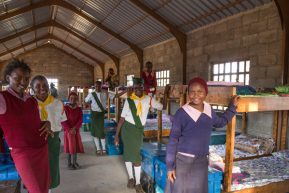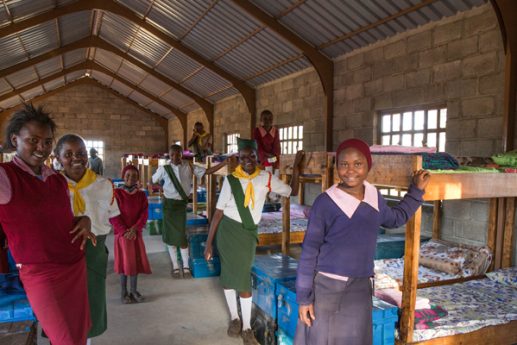 Less than a year after Maranatha volunteers completed the construction of a…
Continue Reading
Related Videos
In Zimbabwe, women spend an extraordinary amount of time getting water every day. Maranatha wants…
In the farthest reaches of rural Kenya, Maranatha is building churches and renovating schools and…