Stepping into New Shoes
The story of a reluctant volunteer and what changed her heart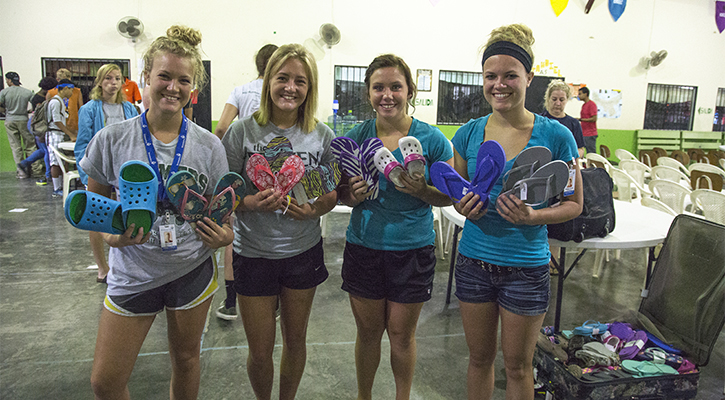 It's rude to reject presents, but Kim Kraulik did not want to go on a mission trip.
As a high school graduation gift, Kim's parents were offering the Ultimate Workout, a mission trip exclusively for teenagers. It was 2013, and the project was slated for the highlands of Ecuador.
But Kim refused.
'I had every intention of not going. I didn't want to go,' remembers Kim, who admits she was going through a rebellious stage at the time. 'But it finally ended in an argument of 'Fine. I'll go, but I won't enjoy it."
Ultimately, Kim lost the battle with her parents. She lost in a big way because not only did she go on Ultimate Workout, she ended up falling hard for missions.
'I got down there and was like, 'Well, I'm here. I might as well have an open mind about it," she says. 'And I loved every minute of it.'
She loved it so much that the following summer, she went on the Collegiate Project to the Dominican Republic. While there, she assisted with the children's ministry outreach and saw something that would nag her conscience for the next few months.
'We were out doing Vacation Bible School one day, and I noticed the kids didn't have proper shoes, or they were worn out, and they were still wearing them. I'm a shoe person, and shoes are the first thing I notice!' says Kim. 'On the flight home, I made it a point that I was going to bring shoes on the next mission trip that I did.'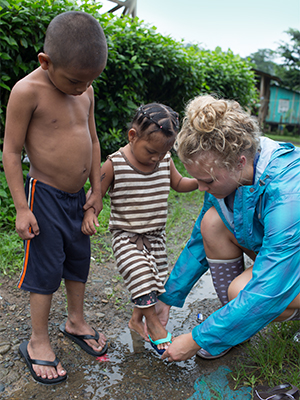 Months passed, and Kim didn't forget about the shoes. She scrolled through Maranatha's upcoming projects and settled on Ultimate Workout 25 to Panama, where she would serve as volunteer staff. With her trip decided, Kim turned her attention to her outreach project. Her goal was to collect shoes and to distribute them during the Ultimate Workout. It was going to be a small endeavor with most of the solicitation done at her church in Grand Forks, North Dakota.
But God had bigger plans for Kim.
On a whim, Kim contacted the student council at her old high school.
'I said, 'Is there any way we can make this project part of the school, and then I can get much more shoes," says Kim. '[The council] said, 'Yeah, that would be great!"
Then, the student council representative put Kim in touch with the principal, who suggested that she put an article in the local paper and on the school website to generate more interest.
'I thought, 'Okay, this is growing more than I thought," says Kim. 'Then the student council advisor came up to me and said, 'We can make the elementary a drop-off site."
Soon, Kim had a donation box at the secondary and elementary schools, plus an article in the paper.
'Pretty soon, I got a phone call from the bank in the neighboring town, and they said, 'We saw your article in the paper, and we were wondering if we could get you some shoes when Old Navy has their $1 flip-flop sale," says Kim. 'As I got off the phone, I got hit so hard with, 'This is such a God thing."
By the time the shoe-drive was over, Kim had collected 372 pairs of shoes, baby clothes, and more.
'It was so amazing. I thought it was just going to be the church getting together, and [the shoes] would fill one suitcase. But I managed to get six suitcases,' says Kim.
With the help of her two sisters, Kia and Karissa; a close friend Rachel Weberg, and other volunteers going on the mission trip, Kim hauled the suitcases to Changuinola, Panama, the site of Ultimate Workout 25.
On the last Friday of the project, Kim gathered her sisters and fellow volunteers to hand out the shoes in a rural neighborhood, referred to them by local government workers. The teens set out tables, organized the shoes by size, and waited.
Slowly, families drifted out of the homes and toward the table. Men, women, and children surrounded the volunteers as they knelt down on the muddy grass to fit each person with new shoes.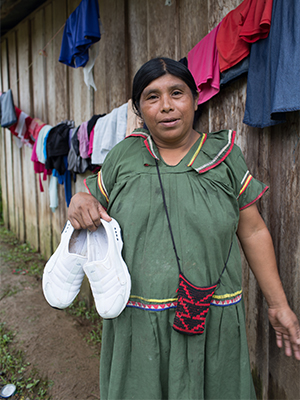 When the last person had been served, the team began to pack for the next location. There were still hundreds of shoes left. Before they left, Kim and her sisters soaked in the moment.
'It's really a touching experience to see the looks on their faces when they get a brand new pair of shoes,' said Kia.
Weberg agreed. 'It feels really good to know that all the work we have done is making an impact on this little community.'
'You realize that even the smallest thing like a pair of shoes or flip-flops can make a difference,' said Kim.
It's hard to believe that it was only two years ago that Kim wanted no part in missions. Now, she's become a catalyst for change. The sisters began to get emotional; they laughed when they noticed that they were all wiping tears from their eyes. They struggled to find words to describe the experience.
Kia, the middle of the three Kraulik sisters and the most outgoing, piped up, offering a perfect summary to a perfect morning.
'Maranatha is all about connecting to Christ through service. And I think this plays a big part in that. This whole experience on Ultimate Workout, the shoes—it's really helped us to grow closer to God.'