About the One-Day Church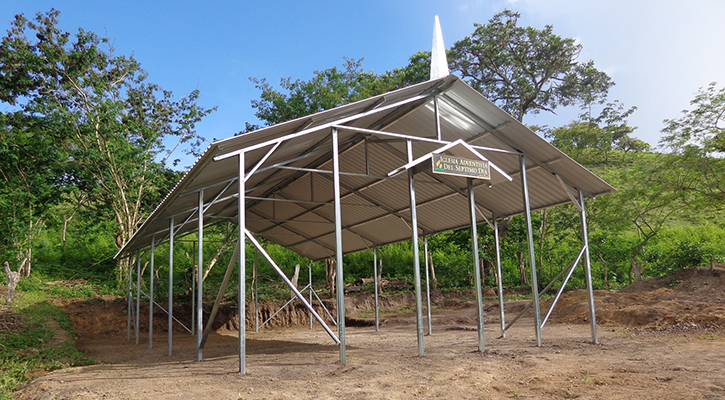 The One-Day Church was born out of the growing need for places of worship. As the Seventh-day Adventist Church membership continued to increase worldwide, people needed churches. Maranatha sought a solution that would be cost-efficient, easy to build, and sturdy.
In late 2007, Maranatha worked with a small team to develop the concept of a steel framework and roof—often the most expensive and unattainable parts for a congregation. The kit could be delivered and built in remote parts of the world. Then the congregations could finish the walls themselves, using local materials.
By the spring of 2008, Maranatha, in partnership with ASI (Adventist-laymen Services and Industries), presented the One-Day Church to the Adventist World Church leadership at meetings in Michigan. A few months later, the very first One-Day Church was built in Ecuador.
In 2011, Maranatha launched the One-Day School. Like the One-Day Church, this kit offered a galvanized steel frame and roof and also included walls, desks, and a chalkboard. A collection of classrooms were used to create an entire school or to augment an existing campus. The first classrooms were constructed in Victoria Falls, Zambia.
After constructing 1,076 One-Day School classrooms, in 2017, Maranatha transitioned out of One-Day Schools and began constructing classrooms with brick and block walls.
To date (March 2020), Maranatha has constructed 5,734 One-Day Churches around the world.
Maranatha relies on the generosity of donors to provide One-Day Churches to congregations in need. Full sponsorship of a One-Day Church kit starts at $7,500, depending on location. You can also sponsor a share at $1,500. Share and full sponsors receive a photo of the finished One-Day Church along with GPS coordinates of the location. To make a gift toward The One-Day Church program or to sponsor an entire kit, make a donation online or call (916) 774-7700.
Timeline of One-Day Structures
April 2008:  One-Day Church concept is introduced to Adventist World Church leaders at Spring Council meeting, which was held at Andrews University in Berrien Springs, Michigan. As part of the presentation, the prototype for One-Day Church structure is erected on the campus.
June 2008:  First One-Day Church is built in Valle Hermoso, Ecuador.
August 2008:  The One-Day Church program is publicly announced at the annual ASI convention in Florida. A full-size One-Day Church is on display in the exhibit hall with a smaller model on the meeting hall stage. Jan Paulsen, then president of the Adventist World Church, and Don Schneider, then president of the North American Division, dedicate the program.
February 2009:  The One-Day Church concept enters Mozambique, as the first structure is built.
March 2009:  Maranatha begins construction of One-Day Churches on a large scale in Mozambique.
March 30, 2009:  The program moves into Zambia with a One-Day Church being constructed for the Shikoshwe East congregation.
January 2010:  Classrooms using One-Day structures with block walls are built in Livingstone, Zambia.
January 2010:  In the wake of a 7.0 magnitude earthquake in Haiti on January 12, Maranatha ships One-Day structures to Port-au-Prince at the request of the Seventh-day Adventist World Church. The structures are initially used as shelters, and later as churches and school classrooms.
July 2010:  The One-Day School structure debuts at the General Conference Session of the Adventist World Church, which was held in Atlanta, Georgia. A partial One-Day School is on display in the convention center lobby.
January 2011:  The first One-Day School campus, a school with multiple One-Day School structures, is built in Victoria Falls, Zimbabwe.
2015: Maranatha adjusts the design of the One-Day Church and instead of having them manufactured and shipped from the United States, they are fabricated around the world, usually where we are working.
Related News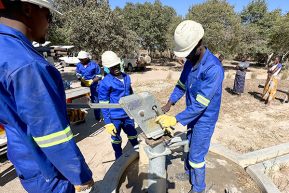 The work in Zambia is steadily moving along through the dedication of…
Continue Reading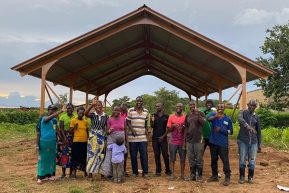 Maranatha's in-country team in Zambia is working hard to bring crucial structures…
Continue Reading