About the Ultimate Workout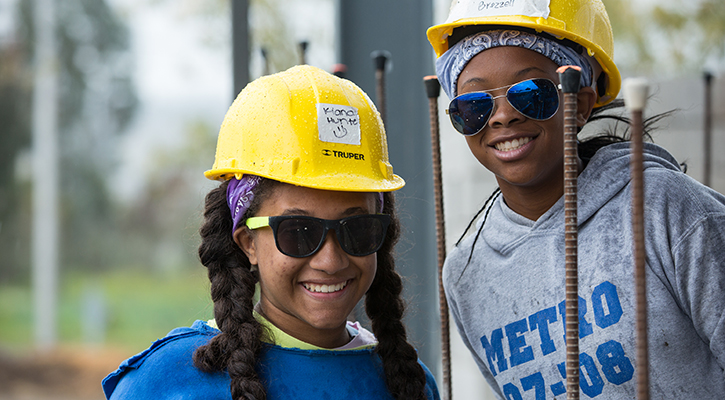 The idea for Ultimate Workout was created by Chris Blake, editor of Insight Magazine at the time, who was running on a treadmill with a friend. They began to talk about the importance of giving their souls a workout, along with their bodies. How could they make their sweat count for eternity? Chris couldn't get the conversation out of his mind and began dreaming up ways to encourage teen readers of Insight to exercise their faith. Soon the magazine teamed with Maranatha and the Ultimate Workout, as we know it, was born. The first adventure consisted of 14 teens. Now more than 30 years later, Maranatha welcomes around 150 participants to Ultimate Workout each year.
As with all Maranatha projects, Ultimate Workout revolves around the construction of a church or school. Volunteers are usually split into smaller teams which work on separate sites or together at one place, depending on the project. There are also opportunities for volunteers to jump into various outreach efforts, such as medical clinics, community service, and children's ministries.
In addition to the work, the Ultimate Workout is intensely focused on spiritual and leadership development. Teens lead out in many areas, including worship, construction, and outreach. Faith is stretched and strengthened in incredible ways while out in the mission field!
There is also time for much socialization. Strangers quickly become close friends. And there is always a fun excursion to get to see a little of the country. From there, volunteers usually keep in touch, reconnect on another Ultimate Workout or mission trip, and sometimes even meet in college!
Frequently Asked Questions
What is Ultimate Workout?
The Ultimate Workout is an annual international teen mission project sponsored by Maranatha Volunteers International. It is intended to "connect teens to Christ through service" by giving participants a physical, social, and spiritual workout through the trip activities.
What are the age requirements for Ultimate Workout?
The Ultimate Workout is a high school experience. We accept volunteers who have completed their freshman year of high school up through recently graduated seniors who have not yet begun college.
Do you have to be Seventh-day Adventist to go on Ultimate Workout?
No. Ultimate Workout is open to ALL teenagers who have completed grade nine and we accept volunteers from all backgrounds and religious affiliations. We ask that all volunteers come into the project with an attitude of respect toward one another. Maranatha is an Adventist Christian organization, so there will be a spiritual component to the trip and volunteers are expected to join the group for daily worships, spiritual discussions, and church services on Saturday. We also ask that volunteers respect Adventist values while on the project.
What is the cost for Ultimate Workout?
Expenses can vary, but typically volunteers pay a participation fee that is between $900 and $1,100. The participation fee covers your food, housing set-up, in-country transportation, insurance, an excursion, t-shirt, and Bible. The fee also contributes to the cost of construction and outreach activities. Fees must be submitted by the final deadline (typically six weeks before the trip).
The participation fee does not cover passport fees or visas, airfare, vaccines, souvenirs, or purchasing items on packing list (if you don't already own them).
Is it OK for my child to travel alone to another country?
It's normal to feel nervous about sending your teen to another country alone. To ease the anxiety, Maranatha does our best to provide lots of information and ways to connect with fellow travelers.  And at the destination airport, our staff will be waiting for volunteers at the airport to escort them to home base. Tips for the traveling minor:
Wear the Ultimate Workout t-shirt provided while traveling!
At some point in your travel, you will probably see other volunteers wearing UW t-shirts. Don't be afraid to introduce yourself and travel together.
Airlines offer assistance to minors by having chaperones between connecting flights. You can request this, but this does mean they will not be allowed to interact with other UW travelers between flights.
Keep Maranatha's emergency number with you while traveling. If you miss a connection or if your flight is cancelled, you can always call us and we will help you figure out the rest of your trip.
When you arrive at your destination airport, go through customs, pick up your bags, and then exit into the lobby. Our staff will be wearing the UW t-shirts and looking for you!
If you ever feel anxious, ask airport personnel for help!
How can I find the best airfare? Does Maranatha have a travel agent? Is there an airline discount available since so many people are going on this project?
We encourage you research for the best airfares. There are a number of online travel sites that search for the lowest airfare. You can also contact local travel agents to see if they can find a better deal. Maranatha recommends two different travel agents in the information packet. Be sure you have the correct dates and times BEFORE purchasing your tickets!
Unfortunately, Maranatha does not have a travel agent on staff and we do not have a group discount since the volunteers are coming from many different places. Participants should purchase a flight from their home airport that matches the guidelines in the information packet. Do not purchase a ticket until the participant has received confirmation from Maranatha that they are accepted to the project.
What diseases are present, and what vaccinations will I need?
Check out the website for the Centers for Disease Control and Prevention (CDC) to look up health advice for travelers to specific regions. We provide additional information about the specific project location in our Ultimate Workout information packet. 

Maranatha requires that all our volunteers have a current tetanus shot prior to traveling. In addition, each individual should make their own decisions regarding vaccinations and prophylaxis. Do your research early as the vaccine process could take a couple of weeks and some specific vaccines require multiple shots. We recommend speaking with a travel clinic doctor at least a month prior to departure.
Will my child be supervised? What is the adult/student ratio?
There are adult staff members that will supervise and mentor the teens. Christian staff members have been recruited especially for their interest in mentoring teens. All staff goes through a screening and background check process as well as in-country training prior to the project. Maranatha strives to keep a 1:4 ratio of adults to teen participants.
I'm an adult. Can I go on the Ultimate Workout?
The Ultimate Workout is for teens but there are opportunities to serve in a staff role. Staff members should have a desire to work with teens and nurture their spiritual development. If you are interested in serving as a staff member, please contact Maranatha.
Can I join my son or daughter on this trip?
Not unless you are fulfilling another staff role such as medical provider, construction superintendent, etc. By not opening this project up to parents, teens are forced to branch out and meet new people. Rather than staying in their comfort zones, they learn to depend on God who is always there for them.
If you feel strongly about joining your child on a mission trip, please check out Maranatha's other mission projects including the Multiple Group Project for small teams and our popular Family Projects.
What official documents are needed?
The specific documents needed for travel will depend on the country you're visiting. More information will be available in the project-specific information packet. All participants must have a passport that is valid for at least six months after the scheduled return date from the project. 

All travelers under the age of 18 must also submit notarized written permission from BOTH legal guardians. The form will be given to volunteers after registration.
Do you have any fundraising ideas?
There are lots of ways to raise money for a mission trip. One of the most common ways of raising funds is through a letter appeal. Check out Maranatha's Resources page to find more fundraising ideas.
Past UW Projects
1990 Debut Trip
1991 UW 1: Honduras
1992 UW 2: Dominican Republic
1993 UW 3: Guatemala
1994 UW 4: Mexico
1995 UW 5: Mexico
1996 UW 6: Panama
1997 UW 7: El Salvador
1998 UW 8: Venezuela
1999 UW 9: Honduras
2000 UW 10: Nicaragua
2001 UW 11: Costa Rica
2002 UW 12: Dominican Republic
2003 UW 13: Dominican Republic
2004 UW 14: Peru
2005 UW 15: Peru
2006 UW 16: Peru
2007 UW-India
2007 UW 17: Ecuador
2008 UW-India
2008 UW 18: Chile
2009 UW 19: Ecuador
2010 UW 20: Mexico
2011 UW 21: Mexico
2012 UW 22: Nicaragua
2013 UW 23: Ecuador
2014 UW 24: Dominican Republic
2015 UW 25 USA: Oregon, United States
2015 UW 25: Panama
2016 UW 26 USA: California, United States
2016 UW 26 DR: Dominican Republic
2017 UW 27: Panama
2018 UW 28: Bolivia
2019 UW 29: Kenya
2020 UW 30 (Virtual)
2021 UW 31: Arizona, United States
2022 UW 32: Peru
2023 UW 33: Dominican Republic