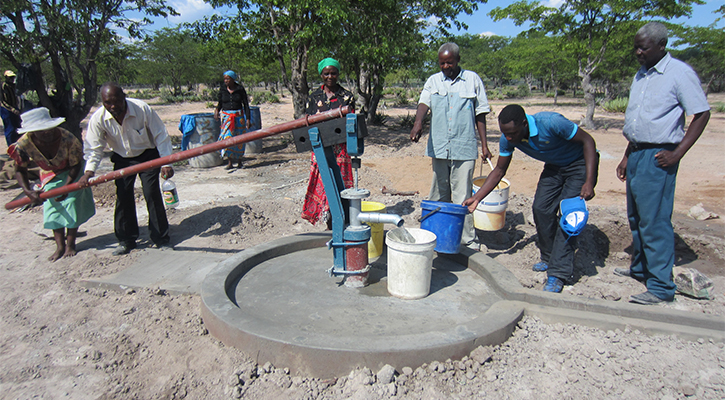 Martha Moyo is 69-years old, and her life is about to change in a big way. In February, Maranatha Volunteers International drilled a water well in her village of Jibi, about 60 miles from Bulawayo, in Zimbabwe, and she couldn't be more thrilled. A well means clean water, better health, and less time on the road.
'I thank God for the donation. I used to travel 13 kilometers to get water from the river, two times a day, to make sure I had enough water for my family,' says Moyo.
Moyo wasn't alone. Everyone in her community had this routine, especially when the shallow wells, hand dug by villagers, dried up years ago. The river became the only option for water.
'It was very unfortunate to see 80 families rushing down to the river to draw water, and on the other side, animals drinking from the same stream,' says Micah Tsabangu, the village elder. The water, as a result, would get contaminated, and people would fall ill. 'We've been requesting a borehole from the government, but nothing happened. There was no hope for fresh water in my village.'
With the water crisis being on everyone's mind, the installment of a well, made possible by generous Marantha donors, drew a crowd. People walked over to witness the crews working.
Joyce Ndlovu is one of those who came to watch. She lives in a neighboring village and plans to use the well. 'Firstly, I thank God for sending Maranatha to rescue us from this bondage of drinking unsafe water,' she says. 'This is a blessing in our communities.'
The Jibi well is part of Maranatha's larger effort to provide clean water in Zimbabwe. To date, Maranatha has drilled 48 wells in Zimbabwe.Maranatha has also provided wells in several other countries, including Mozambique, where Maranatha organized a major effort to drill 750 wells in partnership with Adventist Development and Relief Agency (ADRA). Whenever possible, the wells are placed on the site of a Seventh-day Adventist Church or school as a form of outreach to the community.
Currently, Maranatha is exploring a water program in Kenya to accompany the construction of churches and schools.
If you are interested in supporting Maranatha's water well program, go to www.maranatha.org/water or call (916) 774-7700.