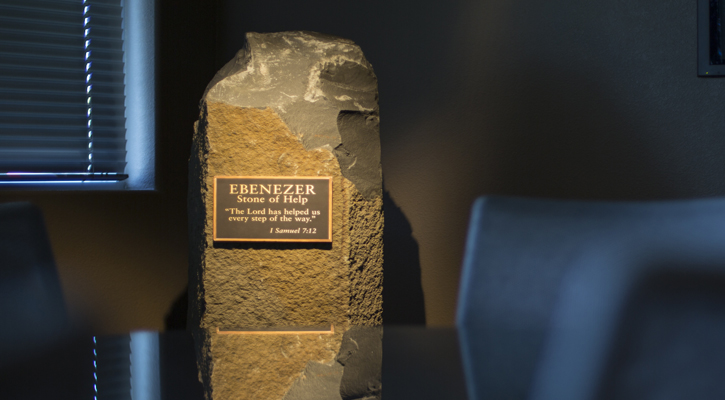 By Don Noble, president of Maranatha Volunteers International
If you were to walk into the Maranatha boardroom in our Roseville, California office, you would see a very large, 2,500 pound, very prominent rock in the front left corner of the room. It is highly unlikely that this type of a feature is on display in many boardrooms, but this rock is extremely significant for us at Maranatha. The bronze plaque attached to the front of the large rock is inscribed with the following words from Scripture: 'The Lord has helped us every step of the way.' (1 Samuel 7:12.)
This memorial rock reminds us every day that God has always been with us and that we can fully trust His leading in the future. In 2016, God gave us the privilege of partnering with many of you to impact thousands of people for His kingdom in a wide variety of ways. Churches were built, schools were erected, wells were drilled, volunteers experienced mission, and many prayers were answered. God was certainly with us every step of the way.
As we make plans for 2017, once again our board and staff look for guidance from the Rock. We never know exactly how God will lead, but we are making plans believing that He will direct us. Initial plans for the year call for involvement in at least 16 countries, with a few more possibilities. We will also launch a new well-drilling rig in Africa to help alleviate the terrible need for water in many areas.
For those of you who may be interested in participating in areas of the world where Maranatha has not worked up to this time, we will have several options available this year. We are planning a school project at Nile Union Academy near Cairo, Egypt. Later in the year we expect to begin providing mission options in the beautiful country of Bolivia. Perhaps the most exotic option will be a school and church initiative in the smallest country in Africa: São Tomé and Príncipe. This country was a Portuguese colony and is off the west coast of Africa. The people there are eager for the Gospel, and we are pleased to be able to respond positively to their appeal for assistance.
We are excited about the opportunities God has placed before us as we begin 2017. We hope you will join us as a prayer partner, a project volunteer or a financial supporter. One thing we know for certain; God will be with us every step of the way. Maranatha—come soon Lord Jesus!
This is an article from our upcoming issue of The Volunteer, coming to your mailbox soon. Read the new issue online.