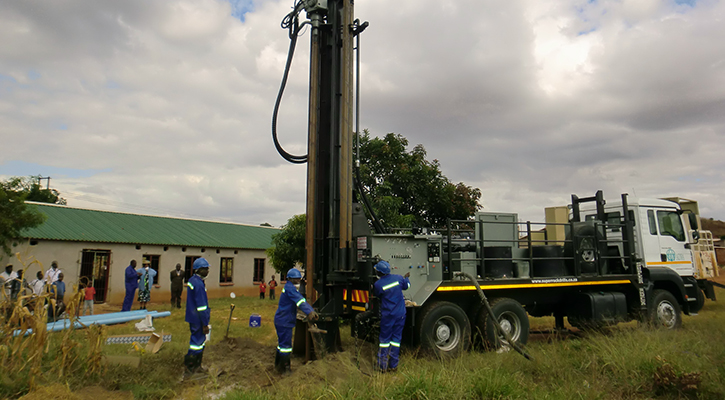 The official dedication ceremony wouldn't be for months, but the people of Kambuzuma West in Zimbabwe could not wait a second longer to celebrate. So on Monday, May 5, the community gathered to pray in thanksgiving and then began pumping clean water from their new Maranatha well.
The informal gathering kicked off Maranatha's latest well project in Zimbabwe. Starting this year, Maranatha will be constructing wells in communities where Maranatha has already constructed or plans to construct churches and schools.
'Whenever we are involved in a country, Maranatha tries to ask what is it that we could do that might enhance the building of a church or school? And in some of these areas, a well can make a big impact on a couple of levels. One is that people really need clean drinking water. Second, a well on a church or school property is available to the entire community—so it becomes outreach, a service from the church,' says Kyle Fiess, vice president of marketing and projects.
Maranatha built a One-Day Church for the Kambuzuma West congregation in September 2012 during an earlier construction effort. Currently, there are plans to build 340 One-Day Churches, 36 One-day School classrooms, and an education and evangelism center in Zimbabwe. Maranatha is working with Seventh-day Adventist Church leaders to determine sites for wells.
Maranatha's first water well campaign was in Mozambique. Maranatha collaborated with Adventist Development and Relief Agency (ADRA), to fund and drill more than 700 wells in Mozambique over a period of three years.
Wells in Zimbabwe need to be funded! If you would like to make a donation to the well program or sponsor an entire well (call for full sponsorship), please give today!