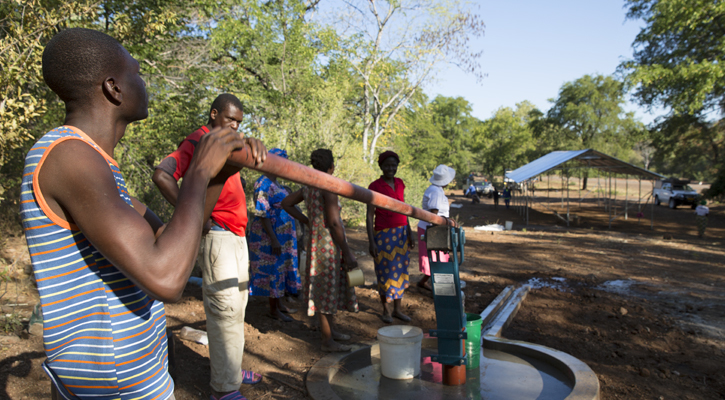 After eleven years of meeting under trees and temporary structures, the Simangani Seventh-day Adventist Church received a double blessing in the form of a church and water well.
On April 27, crews with Maranatha Volunteers International arrived in the Zimbabwe village to begin drilling a well and build a One-Day Church. Forty-eight hours later, the people of Simangani were shouting with joy at the long-awaited answer to prayer.
'It's a dream to me because we have had only a shed, and usually we have to hide our heads from the sun. Now, I can't believe it! We have a nice, wonderful shelter for ourselves and to praise the Lord!' Said an exuberant Ruth Siziba. 'And drinking water for when we're thirsty! He has provided us water. We praise Maranatha. Let God praise and give [Maranatha] power to do so in every rural center—every place they go! Amen!'
Siziba and her sister, Audrey Ncube, established the church in 2005. At the time, they were the only Adventists in the village. They, along with their children, met under a tree for worship. Over time, the group began to grow. Today, there are more than 50 members. Without money for a proper church, the group built a church out of wooden branches, sacks, and a borrowed tin roof. It was an unstable structure that would often blow over on windy days.
As for water, villagers have to walk several kilometers to a pump station, which draws water from the Zambezi River. But the water is tainted and still requires boiling to purify. Some people choose to dig shallow wells in dry river beds.
The new water well, located near the One-Day Church, will serve the congregation and the entire community of Simangani. The well is part of Maranatha's larger effort to provide clean water in Zimbabwe. To date, Maranatha has drilled more than 50 wells in Zimbabwe. This is Maranatha's second water effort in Africa; the first was in Mozambique where Maranatha provided 750 wells in partnership with Adventist Development and Relief Agency (ADRA). Whenever possible, the wells are placed on the site of a Seventh-day Adventist Church or school as a form of outreach to the community.
Maranatha has also provided wells in the Dominican Republic and India and will launch a water program in Kenya to accompany the construction of churches and schools.
Learn more about Maranatha's water well program and the One-Day Church.