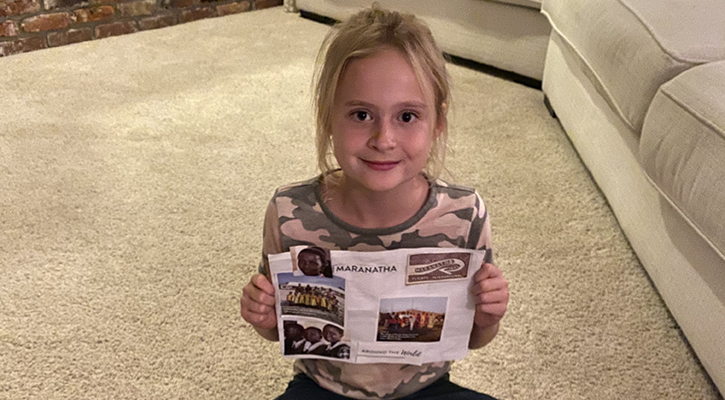 Eight-year old Tayla Whitely first heard about the Kajiado Adventist School and Rescue Center from a chapel presentation at her school. She learned how Maasai girls in Kenya, even as young as her, run away from home to escape child marriages.
She also learned how the rescue center becomes a new home for these girls who have nowhere to go. But the dormitories were crowded, with each small mattress shared by two girls.
Hearing about the plight of her peers in Kenya, the third-grader at Sacramento Adventist Academy, in California, decided to act. Going door to door in her neighborhood, Tayla brought along visual aides from Maranatha's magazine, The Volunteer, to explain the situation at Kajiado. She explained how Maranatha was helping by constructing new dorms, restrooms, and classrooms.
As she walked, Tayla also carried handmade crafts she created and sold them at each house, with the proceeds going to Maranatha's work at Kajiado.
For Tayla, the motivation for her campaign was simple. 'The reason why I did it is because I like to help people in need," said Tayla. Through her efforts, she contributed $18.30 to Maranatha's work at Kajiado.
Now, Tayla is one of the many donors who are helping to build a brighter future for the girls at Kajiado. She's also proof that age is no barrier to being a fundraiser for missions, and you're never too young to make a difference.