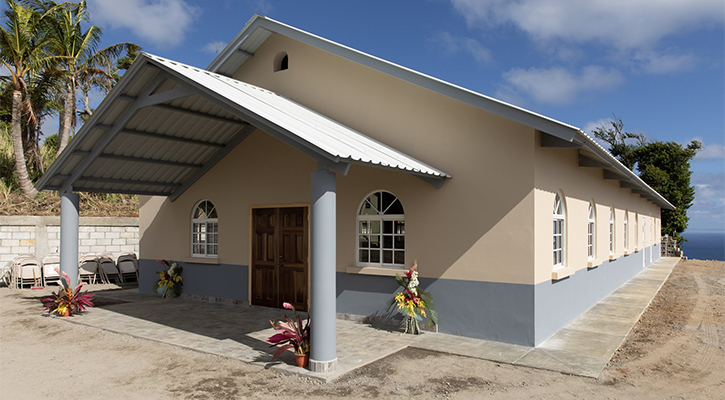 On March 9, 2019, nearly 18 months after being destroyed by a hurricane, the new Beryl Seventh-day Adventist Church opened on the island of Dominica, built by Maranatha Volunteers International. More than 300 people packed into the newly finished church building for a special dedication service, which honored the memory of Maranatha founders John and Ida Mae Freeman.
'We wanted a memorial set up for Mom and Dad, not just flowers, but to be used to help others,' said Freeman's daughter April Sigsworth, who attended the dedication along with her three sisters. 'When [Maranatha] said they had a church that had been pretty well demolished and wanted it rebuilt, we thought that was great.'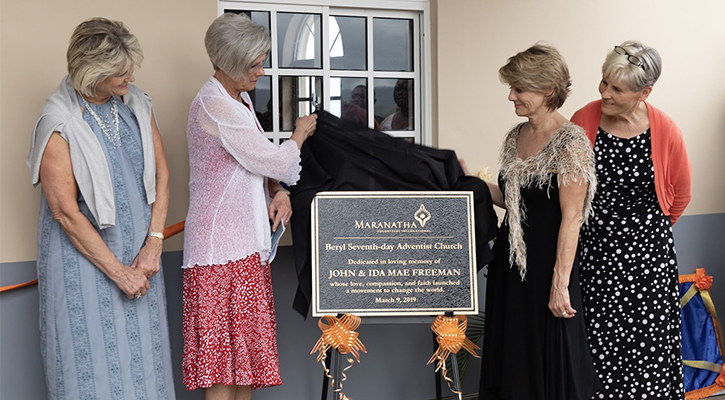 The Caribbean has special significance for John and Ida Mae, who died in 2017 and 2018, respectively. Their initial mission trip to the Bahamas in 1969 sparked what would eventually become Maranatha Flights International. 'The reason we picked this site is because it brings a lot of things together about the Freemans,' said Maranatha president, Don Noble. 'They did a lot of work in the Caribbean, flew their plane out here, and this particular site sits high above the Caribbean almost like you're in an airplane flying above it.'
In September 2017, Hurricane Maria destroyed 28 of 34 Adventist churches on the island, including the Beryl Church. The Category 5 storm caused such widespread destruction, it left the people of Dominica feeling hopeless.
'We all know what happened here two years ago, so having a church rebuilt is like the nation is rebuilt also,' said Elie Henry, president of the Adventist Church in Inter-America. 'What's more, for us it means that the church of God is taking a new step to continue the mission we have here on this island. We want to take this opportunity to thank Maranatha Volunteers International for the work they have done.'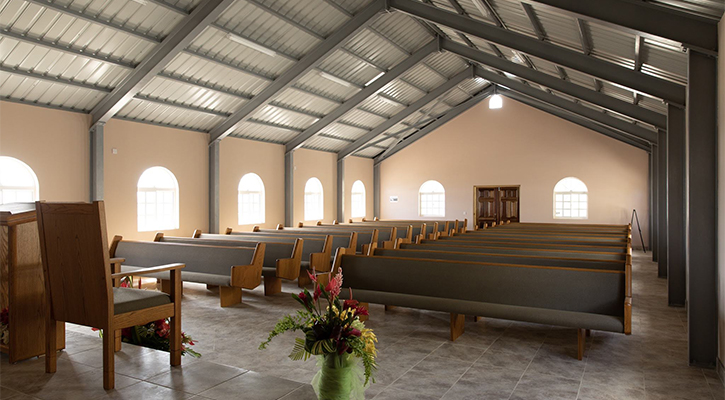 Besides the Beryl Church, Maranatha has agreed to build three additional structures on the island that were damaged by the hurricane, including the Wesley Adventist Church community center.  This is the second time Maranatha has assisted with reconstruction efforts in Dominica. In 1979, Maranatha helped to rebuild schools and houses after Hurricane David.
'It's been a blessing for me to see that [Maranatha] has grown to the level it has over the last 50 years,' said Melody Durham, one of the Freeman daughters. 'When it first started, we didn't know how long this would go on. So it's just amazing to see that it just continually grows and grows and grows. It's very meaningful for us as children to see what a legacy [my parents] left.'