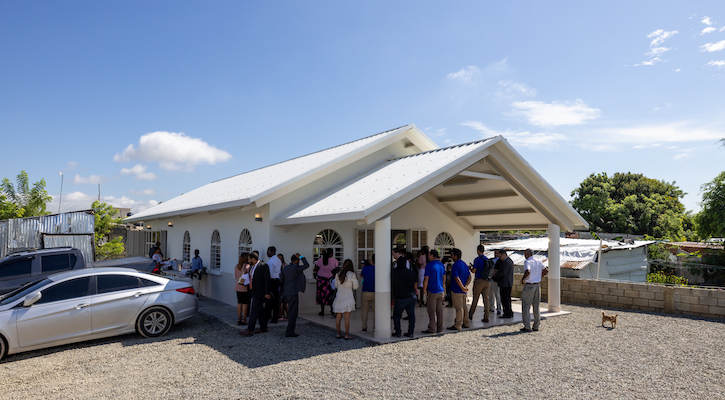 Maranatha leadership travels to the Dominican Republic to dedicate three new churches.
This past weekend, three new church buildings were dedicated in the Dominican Republic. Maranatha leadership and officials of the Seventh-day Adventist Church in the Dominican Republic joined the congregations of La Caleta 5, Unidos En Cristo, and La Ureña 4 as they celebrated their bright, spacious answers to prayer.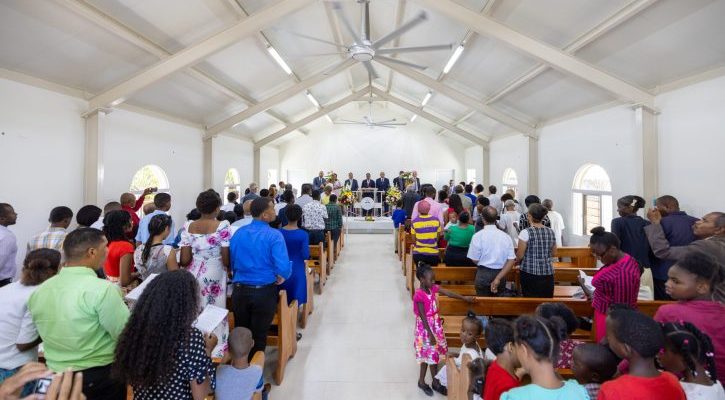 Each of these communities had endured discouraging adversity for years. "Located in an extremely impoverished region of the country, this church worshiped in a tiny space that resembled more of an oven than a place of worship," shared Emmanuel Alberty, Maranatha Country Project Support, about the Unidos En Cristo Church. Worshippers at La Ureña experienced similar struggles; they were often pushed out of their tiny rented space onto the street by the suffocating heat.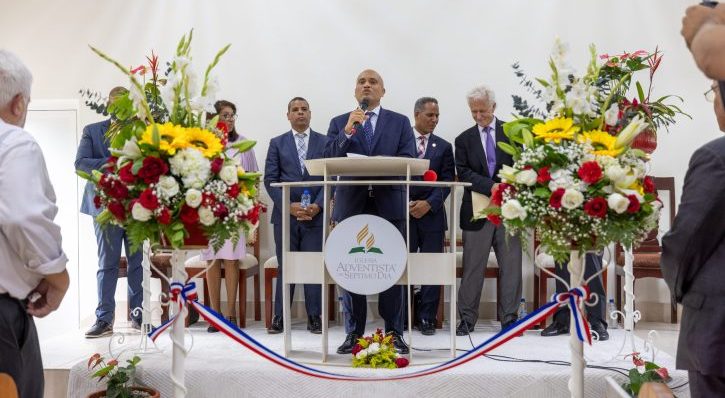 Secretary of the Southeast Dominican Conference Luis Daniel Polanco shared fond memories of Maranatha's earliest work in the area during his keynote address for the dedications. He recalled helping his father on one of Maranatha's church building construction sites in 1992 and explained how serving on that project as a boy jump started his life of ministry. After the dedication ceremony, Ana María López recalled to those around her how Maranatha President Don Noble had visited the park where her congregation used to meet almost 32 years ago. A young woman at the time, she was later baptized into the Caleta Central Adventist Church that was built by Maranatha in 1992 and went on to help plant the seeds of several more churches in her area.
The construction of these three churches is a part of Maranatha's fifth effort in the Dominican Republic that began in 2022. This current effort anticipates the construction of 37 churches and around 5 water wells by the end of 2023. It also includes plans to build a large school campus at Ciudad del Cielo, which will include a Maranatha Education and Evangelism Center, a two-story secondary classroom building, a kindergarten classroom block, a bathroom block, and a large church to seat over 400.
Maranatha has a long history of working in the Dominican Republic. In 1980, after the destruction of Hurricane David, Maranatha constructed 160 houses here. In 1992, the Dominican Republic was the site of a watershed moment of growth for Maranatha, when the organization coordinated the construction of 25 churches over 70 days. Dubbed "Santo Domingo '92," it was the first time Maranatha concentrated on one place for multiple volunteer projects. Later efforts occurred in 2003 and 2013, and in 2022, Maranatha returned once more.