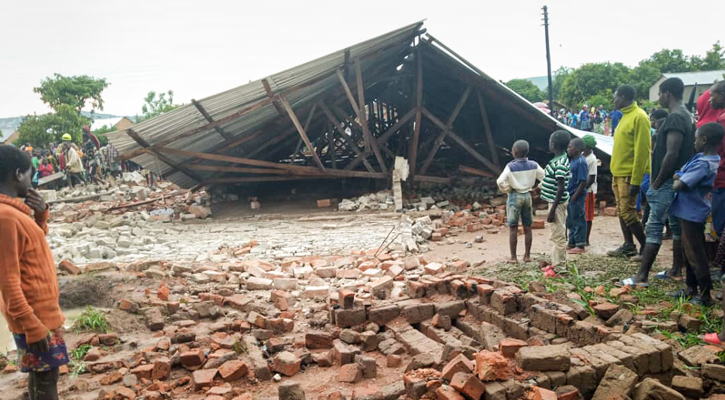 Maranatha Volunteers International has committed to building a new place of worship for the Bethsaida Seventh-day Adventist Church, in northeastern Zambia, to replace the church that collapsed during a heavy rainstorm earlier this year. 
On the afternoon of January 8, 2022, a severe storm broke out in Kasama, the city where Bethsaida is located. As Sabbath services wrapped up, some members decided to shelter in the church to wait out the weather. However, the rain and wind intensified, causing the church to collapse onto those inside. Five people died and 16 were badly injured. 
Local officials attributed the collapse of the church, which was constructed by members in 2020, to the quality of construction. "After assessment of the building, it is clear that the building material used was of poor quality," said firefighter Hoseo Mbao to Daily Nation, a Zambian news outlet. 
Soon after, Samuel Sinyangwe, president of the Adventist Church in Northern Zambia, requested Maranatha's assistance in rebuilding the church as soon as possible, as "members have nowhere to worship and it is the rainy season," said Sinyangwe. The new place of worship will be on a larger property that can accommodate a church designed for Bethsaida's 500 congregants. Maranatha will also provide six Sabbath School classrooms for the church's 180 children, bathrooms, and a water well for the community. 
Fundraising efforts are underway, and Maranatha hopes to start construction on the church later this year. 
Zambia is one of the countries where Maranatha has had a presence to build churches, schools, and water wells since 2009. Last year, Maranatha completed 82 churches, 2 schools, and 232 wells in Zambia. In 2022, the goal is to provide 120 One-Day Churches, 1 school campus, and 250 water wells, along with a maintenance program for existing wells.