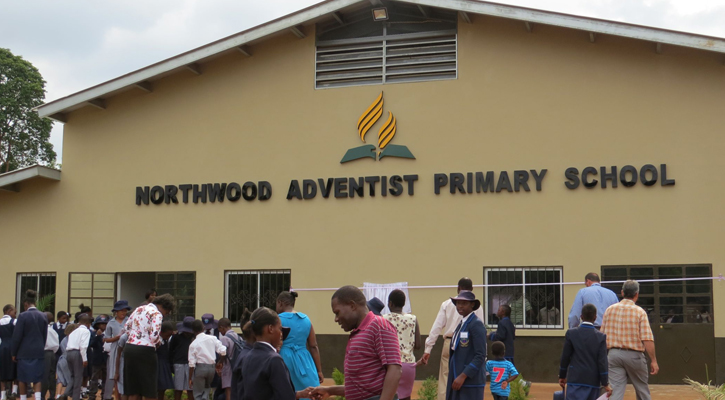 At a commissioning service for the newly constructed Northwood Adventist Primary School in Harare, Zimbabwe, government representatives thanked Maranatha Volunteers International and the Seventh-day Adventist Church for their contributions to Zimbabwe's education system.
'The important role that churches play in helping educate the youth should be noted. There is a need to be involved in the moral and ethical education of our youth. The Seventh-day Adventist Church is doing a lot to achieve this goal,' said Sylvia Utete-Masango, the permanent secretary for the Ministry of Primary and Secondary Education.
More than 700 people gathered for the program, which took place on November 30, 2014. The school building is a dream come true for the East Zimbabwe region of the Seventh-day Adventist Church. Three years ago, a local church congregation purchased the property in hopes of building a campus. Then Zimbabwe's regional leadership for the Adventist Church asked Maranatha for help. The large school building took two years to complete, and the project was part of Maranatha's larger effort to provide churches and schools in Zimbabwe.
'Thank you Maranatha. Thank you East Zimbabwe Conference for choosing us to receive this structure. We can now enroll more pupils and worship in a decent structure. We are gathered here to witness excellence at its best. We believe in Adventist education to train young people spiritually, mentally, and socially for this world and the world to come,' said Mrs. Chimani, headmaster of Northwood.
There are already 273 students attending the school, but enrollment is expected to double when the new academic year begins in January. As the only Seventh-day Adventist primary school in Harare, Northwood serves an immediate need for church members in the area. But beyond the Adventist community, the school is fulfilling an overall demand for more schools in Zimbabwe. According to information shared by Utete-Masango, a recent survey showed that Zimbabwe needs 2,056 more schools.
'In this country… we have a need for many more schools. You are witnessing a demonstration that the Adventist Church is ready to partner with the government to face these challenges,' said Jonathan Musvosvi, president of the Adventist Church in East Zimbabwe.
This is the second Education and Evangelism Center Maranatha has built in Zimbabwe. Maranatha has constructed five other campuses in the country, using the One-Day School structure and also built hundreds of One-Day Churches.