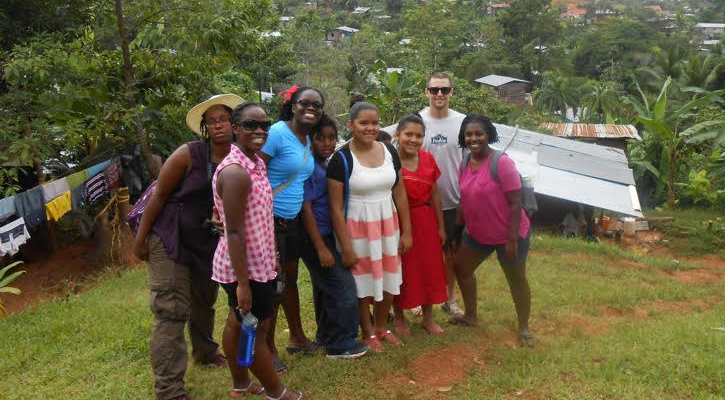 The One-Day Church frame was up, and the members of the 14 de Abril church in Changuinola, Panama, were thrilled to have a roof over their heads and a place to call their own. But Maria Molleda, project support coordinator for Maranatha, felt it just wasn't enough.
The church had just received 20 chairs, donated by a previous volunteer group. But they needed more. So Molleda asked Rebekah Widmer, project coordinator for the Young Adult Project, if she could ask the volunteers to donate.
'I didn't feel comfortable asking the volunteers for donations. They had already spent lots of money to come on this mission trip—how could I ask them for more?' Says Widmer, who is also the volunteer projects specialist at Maranatha. After all, they had already completed their objective to build the One-Day Church for the 14 de Abril congregation.  
But Molleda insisted, and Widmer presented the need to the 36 participants on the Young Adult Project, an annual trip for participants between the ages of 18-35.
'The volunteers gave a total of $985,' says Widmer. 'I was completely amazed when several volunteers turned in $50, $100, even $200 to go toward the projects we were trying to accomplish.'
The money was enough to purchase more chairs not only for the 14 de Abril church but also for the second One-Day Church constructed by the Young Adult group. It also purchased a wooden pulpit and materials for community outreach during the project. The leftover was enough to put toward a concrete floor for the church.
'It proved that I shouldn't stand in the way of what God has planned and what people are capable of. Our volunteers are generous. They have generous spirits to just come on a project, but then they want to give more and help in ways beyond I could even imagine,' says Widmer. 'Ask and you shall receive.'
The surprise generosity of the volunteers was a highlight of the project, but it was a small part of a larger effort in Changuinola. From August 5-17, 36 volunteers worked on a variety of projects including the construction of two One-Day Church frames—one of them being 14 de Abril—outreach activities, and the construction of a new Sabbath School classroom for the Finca 4 Adventist Church.
Maranatha volunteers constructed the Finca 4 church in 1996, during a previous effort in Panama. Earlier this year, a volunteer group refurbished the sanctuary itself, giving it a fresh coat of paint, inside and out. The new Sabbath School classroom will help to provide additional space for the growing congregation.
Additionally, volunteers with the Young Adult project organized several outreach activities, including food distribution, children's ministry, and a special program for women. The women's outreach offered a day of pampering, which included hair cuts, hand and shoulder massages, fingernail cleanings, and worship. The volunteers also gave each woman a Bible with highlighted verses about women and a skirt to wear.
'The goal of this specific outreach was to show the women that they were valuable, important, loved by God, and had a place within His family,' says Widmer. 'After the morning activities, you could tell the women were happy. Beaming smiles everywhere. They all held on to their Bibles like the treasure it really is. The volunteers were equally impacted; many said that it was the best day of outreach.'