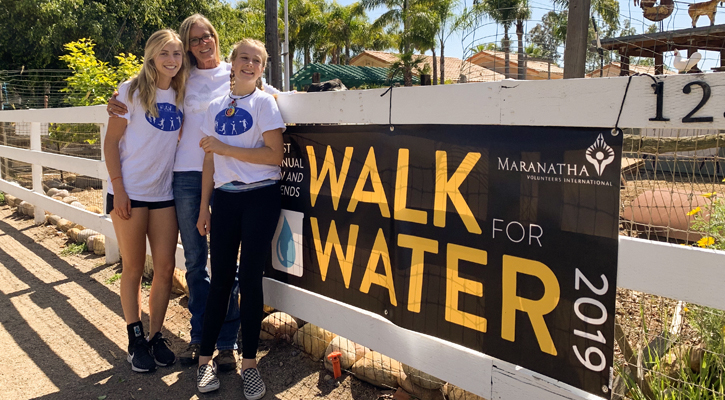 As with most neighborhoods in the United States, the Del Mar Mesa community, in San Diego California, has running water. Simply turn a faucet and clean water is readily available.
Given this fact, the sight of nearly 20 girls, in an affluent neighborhood, carrying buckets of water up a ravine was out of the ordinary, to say the least.   
But the walk was for a good cause: clean water.
'What we're trying to do is represent what African women do on a day to day basis… the fact that they have to travel several miles–several hours–to just get water,' says Emma Reeves, an 18-year old senior in high school from Del Mar Mesa. 'And it's not even clean water, so we try to replicate that by taking our own buckets and getting a bunch of ladies in our community–from elementary school to high school–and kind of show what they have to go through every day and to see the importance that clean water would have.'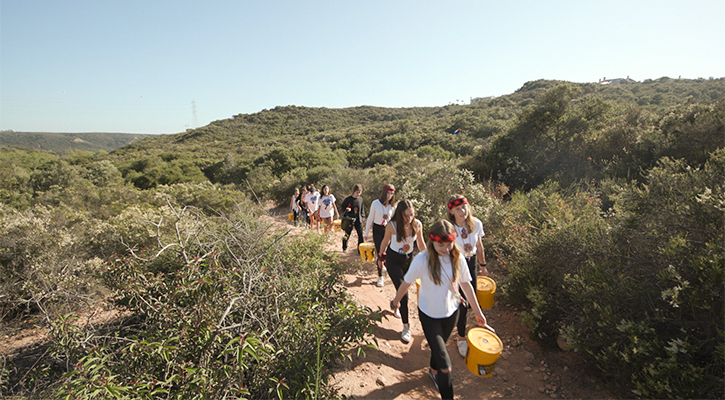 Reeves heard about the plight of African women from her neighbor Elizabeth Rabbitt. Rabbitt has been on two mission trips to Kenya with Maranatha Volunteers International. She's also attended the annual Maranatha convention, where she learned about the water crisis in sub-Saharan Africa. The situation motivated her to start raising money for Maranatha's water program. Last fall, Rabbitt raised more than $18,000 for #GivingTuesday, the international day of giving in November. Rabbitt also began talking to her friends and neighbors about what she had seen in Africa.
Among the listeners were Reeves and her best friend Mia Goldman. Both teenagers have known 'Miss Elizabeth' since they were toddlers.
'Well, the girls in this neighborhood, they've been coming to my ranch here since they were, you know, 4 or 5 years old. They were tiny, and they hang out here, and we were painting, and they were talking about going to college. And they knew I'd been to Africa, and they were asking me questions about what I learned and what it was like, and I was sharing with them,' says Rabbitt.
The story of young girls spending long hours to collect water struck a chord with the teens. When Rabbitt suggested a fundraiser, Reeves and Goldman jumped on board. The three started organizing the details of the event, calling it 'Walk for Water.' Participants would be asked to find sponsors, and on the day of the event, each girl would walk nearly a mile to a pond in the neighborhood, scoop water into their buckets, and walk home.
The goal? $15,000.
Reeves and Goldman recruited members of Female Athlete Volunteers (FAV), a teen service club in San Diego. Rabbitt bought bright yellow buckets, much like the yellow jerry cans used by women in Africa, and decorated them with Walk for Water stickers. Using Maranatha's online fundraising platform each participant created accounts and webpages for sponsors to donate. The local newspaper, Del Mar Times, interviewed the girls and ran a story on their event.
After three months of planning, on May 3, a group of 16 girls, ranging from elementary to high school age, gathered at Rabbitt's driveway. They wrote name badges, selected Maasai bracelets that Rabbitt had brought from Kenya, and picked up buckets. Then, the participants walked down the neighborhood street and down a ravine. At a pond, they collected water into their buckets, then hiked up the rocky trail back to Rabbit's home.
'Carrying that water was kind of a challenge, and I wasn't even carrying that much water. I couldn't believe how difficult it would be. Girls–little girls–travel hours with that much water everyday, and it would be exhausting,' says Reeves.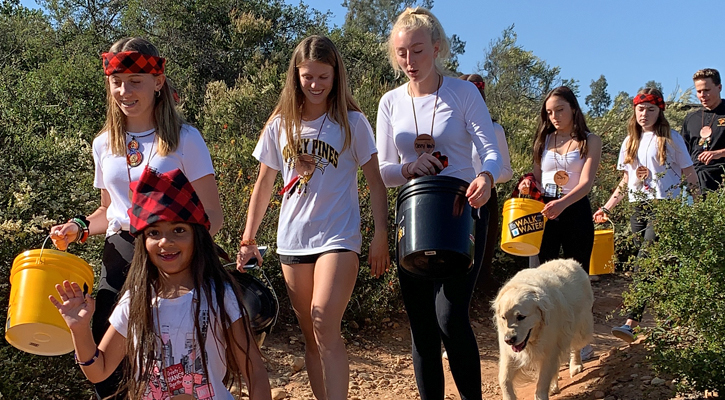 The team finished their afternoon with a pizza party to celebrate a successful event, which raised $15,485. The amount is enough to fund a simple well for a village–a gift that will impact hundreds of lives.
Now, Reeves, Goldman, and Rabbitt are thinking of making it an annual event.
'It's such an amazing feeling to know that I can be giving back to other people because living in this bubble is great, but I haven't been able to really experience the outer world,' says Goldman.
'This is just so eye-opening, and I just really want to give back.'
This attitude of generosity is exactly what Rabbitt hopes to inspire in the young women. And this summer, Goldman's world view is expanding with a trip to Kenya. Goldman, along with her brother and mother, is joining Rabbitt on a Maranatha project to build a school. This will be the family's first mission trip and venture to Africa
Rabbitt hopes the experience will fuel the fire to keep serving and ignite positive change.
'We're in San Diego, in beautiful homes. We wake up every morning and you're just in paradise. And when you think about how lucky we are–doesn't that make us responsible for sharing our luck and sharing our wealth with others?' Says Rabbitt. 'I mean, imagine a world where nobody shared, if nobody was willing to give back. If we all just kept it to ourselves. I mean, we really depend on people and their generosity and their need to share. To make the world a better place and help people.'
If you're interested in creating a fundraiser for Maranatha, check out our online fundraising platform. This program is perfect for crowdfunding and peer-to-peer fundraising. Last fall, we encouraged everyone to use it for #GivingTuesday, and our supporters raised more than $100,000!