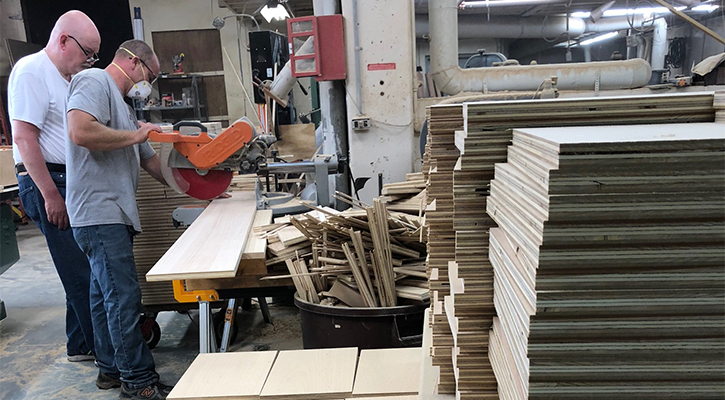 Union College's school song is about 'slinga' de ink and pusha' de pen,' but the month of July was all about swingin' the hammer. From June 23 to July 12, the campus in Lincoln, Nebraska, welcomed more than 100 volunteers for a Maranatha project to renovate the women's dormitory.
The work was extensive, requiring demolition, electrical work, painting, flooring, and even carpentry. Working under the guidance of Maranatha's director of North America Projects David Woods, volunteers built oak desks and bookshelves at the school woodshop.
While Maranatha's North America projects always welcome a group of skilled workers, the Union College project was unusual in it drew several electricians–thanks to Mick Ray, a Maranatha volunteer. Ray owns Empire Electric in Lincoln. When he heard about the mission trip at the college, he encouraged his employees to give their time as much as possible. As a result, many of his workers dropped by to help, and some even stepped outside their field of work to pick up a paintbrush or work in the woodshop.
The most experienced electrician was not a part of Ray's team but a retiree named Larry Rhodes, Sr. At 90 years old, he was the oldest volunteer, and he wired Rees Hall when it was first built 60 years ago. He was happy to return for the overhaul and share his skills.
The project also drew Union College faculty and staff, along with plenty of local community members and even alumni.
By the end of the three-week session, volunteers built and installed 68 bookcases, base cabinets, and drawers; demolished 34 rooms; painted all the dorm rooms; stripped out old electrical and replaced them with new outlets, switches, smoke detectors, and lighting; installed 7,000 square feet of flooring; and much more.
Union College is one of nearly two dozen Maranatha projects scheduled in North America this year.