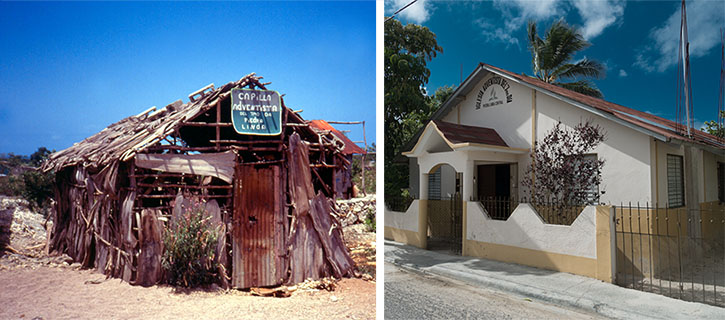 Last week, Maranatha participated in the dedication of more churches in the Dominican Republic. All of the churches are buildings constructed by Maranatha volunteers in the past year.
During the trip, Maranatha visited the Piedra Linda Church, which was built by Maranatha in 1991. Back then, members were worshiping in a dilapidated shack. The photo became iconic to Maranatha, representing the desperate conditions of churches in the Dominican Republic.
Today, the Piedra Linda Church is thriving. Over the years the congregation has grown to plant four generations of churches! In January 2015, volunteers will build yet another Maranatha church in a place called Villa Caoba; this group branched off from one of the daughter churches of Piedra Linda.
The church dedications were in the greater Santo Domingo region and part of the southeast conference of the Seventh-day Adventist Church. Last December, Maranatha dedicated six churches in the same region.