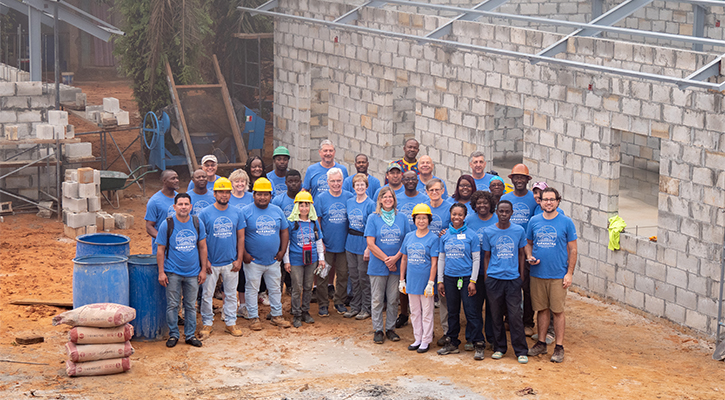 A group of volunteers recently returned from a mission trip to the African nation of Côte d'Ivoire, where they constructed buildings for the Abbebroukoi Seventh-day Adventist Church. Previously, this congregation met under a carport-like structure that didn't protect from the wind and rain. After completing the church and a bathroom building, volunteers were able to worship with the Abbebroukoi congregation in the new space on Sabbath.
Throughout the trip, volunteers enjoyed plentiful interactions with the locals. Each day, church members and community people alike gathered around the construction site to see the progress made by the participants. Beyond church construction, volunteers passed out educational items and toys to children in the neighborhood. 
The group also had a few moments to experience the culture of Côte d'Ivoire. They visited the Basilica of Our Lady of Peace, the largest church in the world, and toured a chocolate factory.
This mission trip was one of Maranatha's first in the country of Côte d'Ivoire, where there are less than 10,000 Adventist church members. In 2019, Maranatha agreed to build churches and schools in response to a request from the Seventh-day Adventist Church in West Central Africa. The initial focus will be surrounding the largest city in the country, Abidjan.