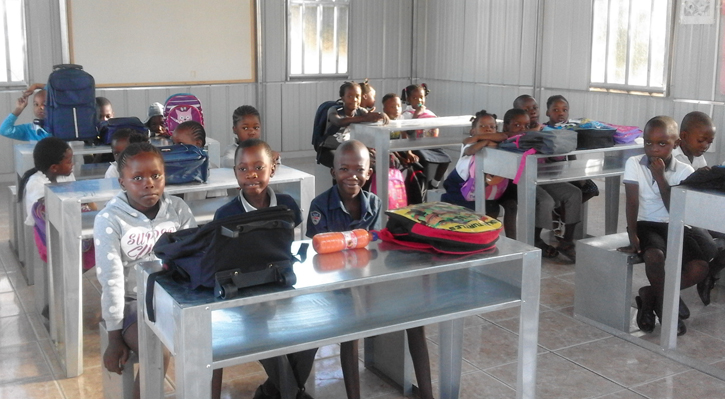 On January 13, 2016, school commenced at the Mavuluma Seventh-day Adventist Primary School in Namibia with 37 students enrolled. One week later, the number has already jumped to 56 children in pre-kindergarten through third grades. The school will continue to provide more grade levels as enrollment increases.

The school was constructed by Maranatha volunteers during a mission trip last March. During the project, volunteers assembled 12 One-Day School classrooms, while also organizing health seminars in various parts of the community.
The campus is located on the property of the Mavuluma Adventist Church in Katima Mulilo.
Six years ago, the church started a daycare and preschool in the sanctuary with hopes of growing the program into a full elementary school. However, fundraising was a constant challenge.
Yet a Seventh-day Adventist primary school was a top priority for Namibia. Decades ago, the Adventist Church in Namibia operated 13 schools, the first being established in 1920. But by 1943, the schools were taken over by the government, due to mismanagement and insufficient funds.
In 2013, leaders of the Adventist Church in Namibia made a formal request for Maranatha's assistance on the project. Two years later, a group of volunteers arrived in Katima Mulilo to build the campus. Today, Mavuluma is the first and only Adventist school in operation in Namibia since the 1940s.
Namibia has an estimated 18,000 Adventists. The majority—about 80 percent—reside in the Caprivi Strip or Zambezi Region, where Katima Mulilo is located.