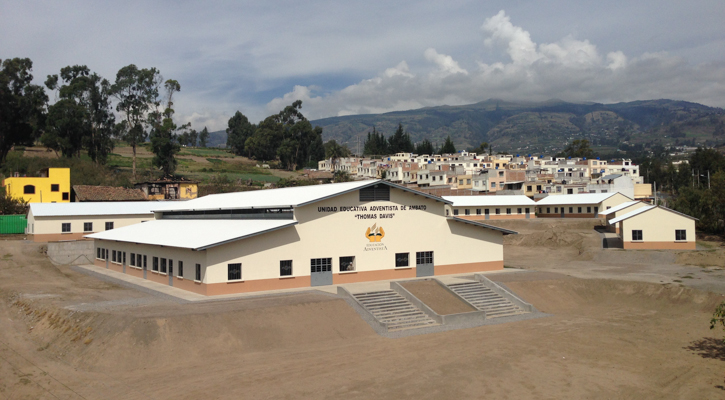 About a year and a half ago, Maranatha received an urgent plea from Ecuador. A new school was needed in the city of Ambato. The current school utilized a building in the downtown business district that was too small and not conducive for education. The city of Ambato declared the location not suitable for a school, and gave a deadline for either moving the school or closing it down.
This created a dilemma for school leadership. They had no land and no other options for moving locations. Rumors began circulating that the school would close down.
The rumors were met with an outcry from parents. They gathered for meetings to discuss the fate of the school. A parent donated a significant amount of money to buy a large parcel of land in an ideal location. Optimism grew among the students and their parents, but large hurdles remained. There was no money for construction.
So the school reached out to Maranatha with a plea for help. Thanks to donors and volunteers, a brand new school is ready for classes to begin in Ambato. The campus includes a large Education and Evangelism Center as well as 15 One-Day School buildings. Four hundred and sixty Maranatha volunteers visited Ecuador to help build this school campus.
The Ambato school serves as a capstone for Maranatha's projects in Ecuador. Since beginning work in Ecuador in 2007, a total of 194 churches and 10 school campuses have been completed.
Thousands of volunteers have visited Ecuador with Maranatha. Highlights of the project included a school in the Galapagos Islands and the very first One-Day Church.
Adventist Church leadership in Ecuador have already noticed growth taking place in the Church as a result of the new churches and schools.
The Ambato School story will be featured on Maranatha Mission Stories this weekend. Click here for viewing times and stations