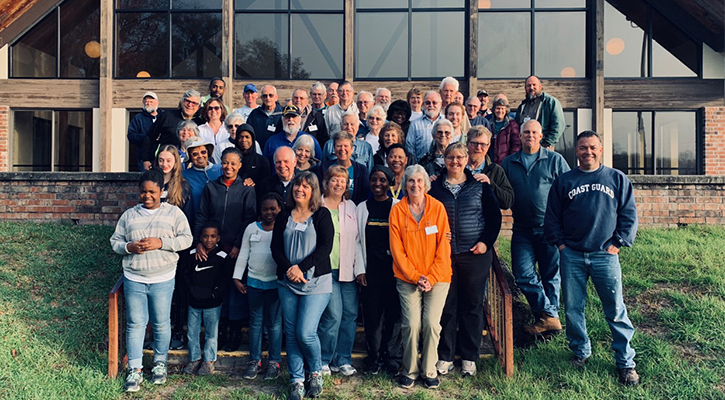 In February, nearly 80 volunteers served over 16 days at Camp Kulaqua, a summer camp and retreat center in northern Florida. Volunteers completed a variety of projects including landscaping, clearing miles of trails, painting, and fence construction. The largest project involved constructing new decks for the camp's mini-lodges. This included demolition of the old decks, sawing lumber, and constructing new decks.  
There were 31 first-time volunteers, including Peter Perez, whose first Maranatha mission trip was an answer to prayer. "I had been praying and asking the Lord to send me somewhere and do something with me," said Perez. "This project was happening right away and I said, 'Yes, I'll go." Perez helped build wooden decks and enjoyed his experience so much, he stayed an extra three days after the project officially ended to work on final details.
Also on the trip were a handful of families with children. The kids ranged from teenagers to a 3-year-old, and all made significant contributions. 'It was energizing to have a mix of ages on the project,' said Susan Woods, Maranatha's Volunteer Outreach Coordinator. 'The kids were inspired by watching the older ones work long hours and had the opportunity to learn new skills from experienced volunteers.'
Though the group was constructed of people from different backgrounds in 18 US states and three countries, they quickly found camaraderie around their work. 'It's always amazing how God can take so many strangers from different walks of life and accomplish so much,' said Woods. 'You work alongside people during a project and eventually leave as family.'
'The last two weeks have been a tremendous blessing to me,' said Perez. 'I've never been part of such a big volunteer group, ever. I hope to be part of more Maranatha trips in the future."
Camp Kulaqua is one of two dozen projects scheduled in the United States and Canada this year. Upcoming North American mission trip work includes church construction, college campus renovations, and camp facility repairs.