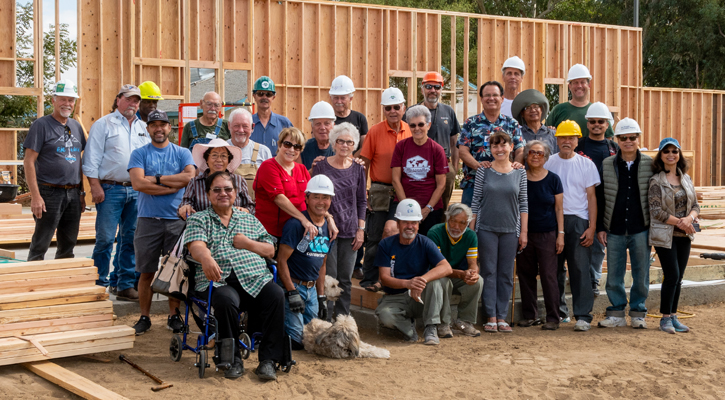 When it comes to mission trips, a rule of thumb is to always have flexibility. This principle was put to the test in October, when a group of Maranatha volunteers arrived in California, United States, for a project, only to find that they weren't allowed to work. 
The objective was to frame a new sanctuary for the Asian American Seventh-day Adventist Church in Bakersfield. For approximately 18 years, the congregation had been meeting in a tiny one-room building. Now, they were ready to build a brand new worship space with Maranatha's help. 
However, an unexpected challenge on a permit prohibited the volunteers from starting construction. With no idea on how long the permit approval process would take, the project leaders were at a loss for what to do. 
Then, the volunteers learned that a sister congregation, Hillcrest Seventh-day Adventist Church, was preparing for their annual 'Walk Through Bethlehem' exhibit, which welcomes thousands of visitors each year. The elaborate set up required crews to build the town of Bethlehem in their parking lot, and it was a process that can take six weeks. However, due to a three-week evangelism event at the church, the start of the set-up had been delayed. 
Maranatha volunteers offered to help, and the team built Bethlehem in just two weeks! 
Ed Jensen, project coordinator, said, 'We wondered if this was the real reason we were supposed to be in Bakersfield!' 
But their work wasn't quite finished yet. Just days before the project was scheduled to end, the Asian American church received their permit. Volunteers immediately jumped on the site and started building. Some even stayed on an extra week. 
'We got the walls framed and covered with sheeting and the trusses up,' said Jensen. 'We got almost everything done that we were planning to do in the first place.' 
The project didn't start the way the volunteers had planned, but an attitude of flexibility and a spirit of service opened new doors of opportunity and blessing to not one, but two congregations in Bakersfield.