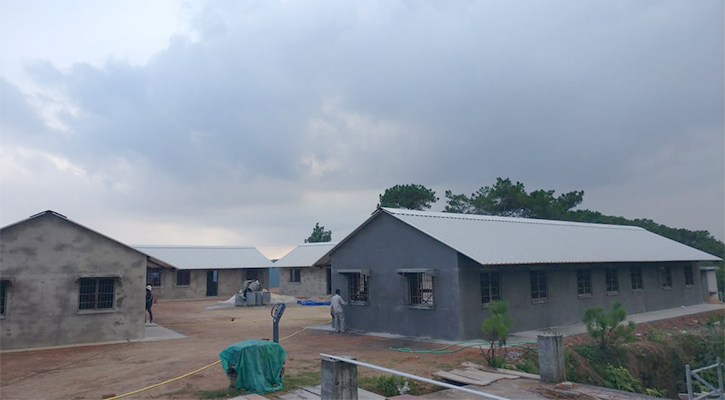 Despite stringent lockdown restrictions throughout the nation during the coronavirus pandemic, Maranatha Volunteer International's local crews in India have continued to move the mission forward where permitted. Since March, crew members have been sheltering-in-place at each work site, taking precautionary health measures, and communicating with local officials to ensure compliance.
In the state of Meghalaya, a new 12-classroom campus for the Jingshai Mihngi Adventist School is nearly complete. This K-10 school educates nearly 500 students but in appalling conditions. Beyond dark, leaky classrooms that can flood, the school sits directly next to an open sewer line, making the smell unbearable. The new campus is located five minutes from the current space, set atop a forested hill , and will offer clean, fresh air. Work is also underway to dig a well for the school.
In the state of Kerala, the Mangalam Dam and Vakkad Seventh-day Adventist Churches are nearly finished. Progress on both sites has been hindered because of heavy rain, including a cyclone earlier this week. Lack of key hardware, due to the interstate travel restrictions, also hampered the work. However, the crews overcame each issue and are in the finishing stages of these buildings.
In the state of Tamil Nadu, the Poovalur Seventh-day Adventist Church received a new water well from Maranatha. The church building is structurally compromised, so crews demolished it this week in preparation to construct a new one. Another well was drilled at the Thondamon Durai Seventh-day Adventist Church, and its church building was razed as well, ahead of receiving a new structure from Maranatha.
Much has been accomplished in the past two months, and more projects are scheduled. This week, Maranatha's truck left Delhi carrying materials for five churches after interstate transport was allowed. Although COVID-19 has disrupted Maranatha's volunteer projects around the world, our local crews in many countries, including India, have been able to push the work ahead.