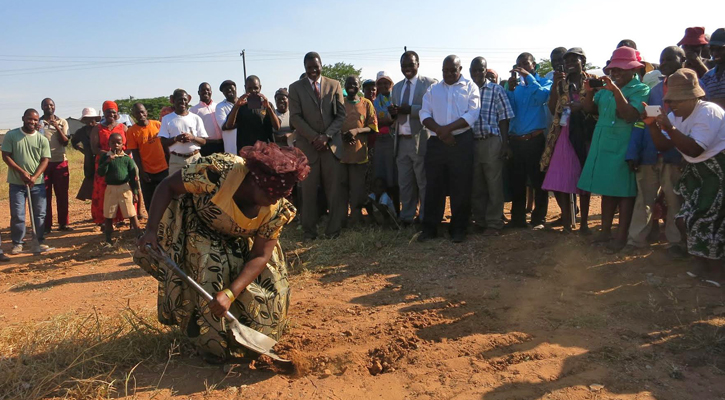 In late February 2015, Maranatha Volunteers International joined local government and Seventh-day Adventist church officials in breaking ground on a highly anticipated new school in Gwanda, Zimbabwe.
'It was by far the most rewarding and enthusiastic response to starting anything we have done here in Africa,' said David Woods, country director for Maranatha, who participated in the event.
The ceremony started at the Gwanda town council building. A spectrum of local leaders—including the town mayor and education director—gave speeches and gratitude to the people gathered. After, the program transitioned to the construction site for the groundbreaking.
Progress on the Gwanda school, which will eventually serve primary students, comes just in time. Local government offered the property to the Adventists more than 12 years ago in hopes that the church could build and operate a school. But the lack of funding prevented progress, and the land sat empty. Last year, the town council announced that they would have to take back the property, but the president of the Adventist Church in west Zimbabwe, Jefrety Sibanda, requested an extension. He listed off several schools that Maranatha had already built in the country and insisted that Maranatha would soon be in Gwanda to help.
Patience paid off, and in 2014, Maranatha committed to a One-Day School campus in Gwanda. After years of waiting, the town mayor called the news 'a dream come true.'
The project will help relieve overcrowding in local primary schools. Currently, there are only two primary schools in town with more than 1,000 students in each. Classrooms are bursting at the seams with as many as 70 students at a time.
Already, Maranatha crews are making good progress on construction, with the help of dedicated church members and local community members; dozens of people are showing up on the job site daily, ready to assist.