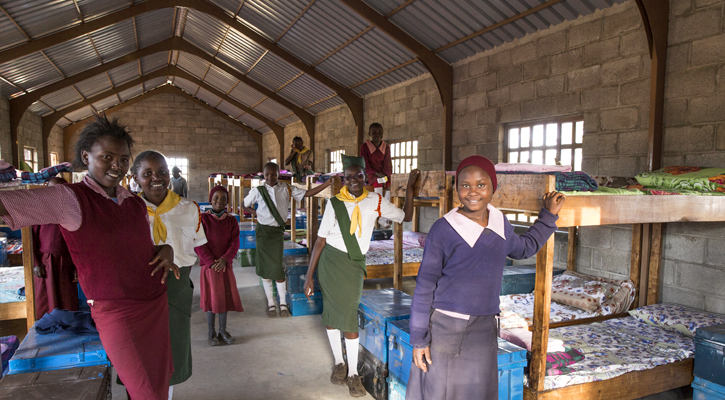 In September, fifty-eight volunteers returned from a Maranatha mission trip to Meru county, in Kenya, at the Kiirua Seventh-day Adventist School. During the two week project, which took place from August 30 to September 14, the team built a new girls dormitory, constructed four One-Day Church structures for local congregations, and organized outreach programs.
Kiirua Adventist School is a primary and secondary boarding school campus with more than 130 students and a preschool. Forty-six of the girls lived in an old, crumbling dormitory that provided little protection against the rain, wind, and cold. The new dormitory, built with a steel frame and block walls, was outfitted with new mattresses, pillows, blankets, towels, and storage trunks–generously provided by the volunteers. The existing bunk beds were also sanded and restained, making them as good as new.
The dormitory project was completed in a week, and on Friday, September 9, the school celebrated with a special dedication ceremony on campus. After the worship program and ribbon cutting, each volunteer took one of the girls and led them to their bed in the new dormitory.
During the project, volunteers also split up to build One-Day Church kits in communities around Kiirua. They also organized children's ministry programs, donated and delivered food to villages in need, and assisted with other various needs in the community. One of the more unique outreach activities included setting up a pop-up shoe shop in a Maasai village, located more than an hour's drive from Kiirua. Working with a local congregation to determine the need, project leaders asked volunteers to bring hundreds of shoes for the effort. Then, the group helped to fit villagers with free shoes.
This was Maranatha's second volunteer project to Kenya with more than half a dozen already scheduled to take place in the next year.
See photos from this mission trip and other projects on Maranatha's Instagram page. Look for @gomaranatha on Instagram to start following us.