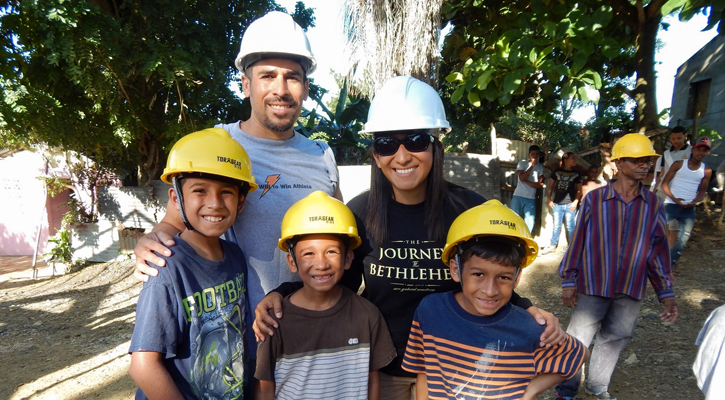 For this year's annual Christmas Family Project, 72 people gathered in the Dominican Republic to spend the holiday season in service.
The volunteers were busy with a variety of tasks. Each morning, the group divided into teams for construction, painting, medical, or Vacation Bible School. Participants worked in neighborhoods located about 40 minutes north of Santo Domingo.
Younger children, under the age of 13, were invited to a Day Camp program, organized by Maranatha volunteers, that offered a few hours of work in the morning at various worksites and outreach or cultural activities in the afternoon. Children had the opportunity to lay block, paint a church and neighborhood homes, assemble food packages for distribution to families in need, and learn how to make Dominican food.
On Christmas morning, the volunteers welcomed a group of orphans from a Santo Domingo children's home for a special celebration. The adults organized games, and the children presented the story of Jesus' birth in Spanish, complete with costumes and music. The day ended with a special dinner along with gifts and school supplies for each of the orphans.
Maranatha started the Christmas Family Project in 2003 as an alternative activity for the holidays and as a way for families to experience service together. Maranatha also offers family projects in the summer. In 2017, there will be Family Projects in Guyana and Kenya. There is no age limit for volunteers, and worship and activities are designed to appeal to all ages.

Look for more on the Christmas Family Project in the upcoming issue of The Volunteer, Maranatha's quarterly publication. If you do not receive The Volunteer, subscribe now. You can also check out photos from the Christmas Family Project on Maranatha's Facebook page