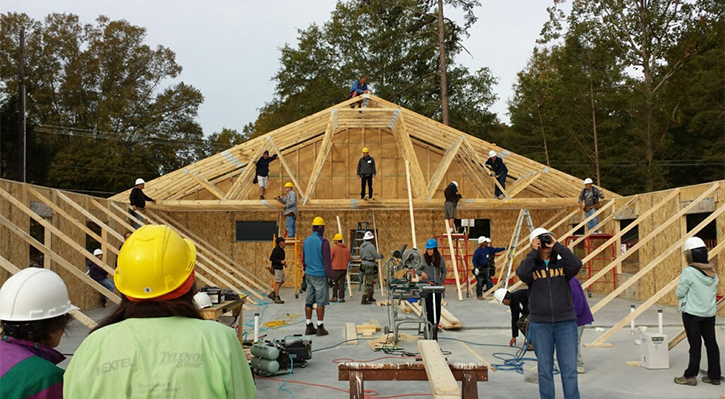 The locals are calling it a 'building blitz,' but for Maranatha Volunteers International, the 12-day construction project at Chapel Hill, North Carolina, is business as usual. Chapel Hill is Maranatha's fifth North America church construction project in 2015, and each of the projects have pushed to build as much as possible in less than two weeks.
For this project, 50 Maranatha volunteers, one traveling from as far as the country of Trinidad, have gathered in Chapel Hill to build a 6,000+ square foot sanctuary for the New Life Fellowship congregation. The Maranatha team is joining local volunteers in the framing and siding, as well as the rough plumbing and electrical work. Already, in just four short days since the project began, the efficient group has completed all the trusses.
The New Life Fellowship Church was founded in 1998 and has more than 150 members. After years of renting and moving from location to location, the members are anxious to have their own sanctuary.
Already, Maranatha has coordinated 15 mission trips within the United States this year. The projects fall under the umbrella of Maranatha's North America Project Assistance program which provides construction help for projects based in the United States and Canada. The assistance ranges from new construction to renovations for various Seventh-day Adventist-related organizations, including retreat centers, schools, and churches. Three years ago, Maranatha began offering small congregations the option of a standard building plan, designed to be simple, effective and affordable.
Watch a timelapse video, capturing the first few days of the New Life Fellowship Church construction project.