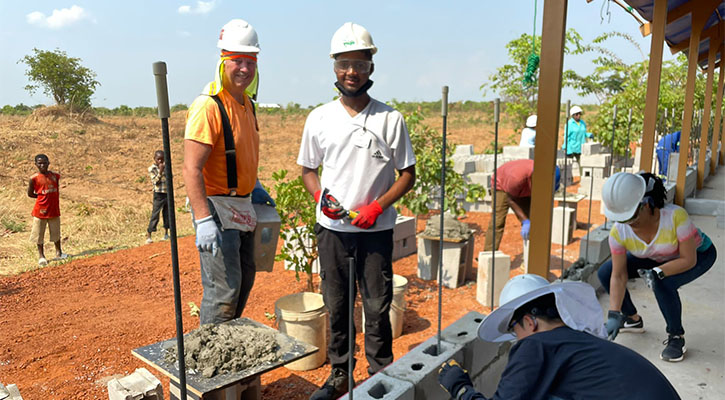 After a tragic start to the new year, the Bethsaida Seventh-day Adventist community in Zambia is closing out 2022 with new hope and possibilities as Maranatha volunteers are building a new church to replace one that was lost.
In January, a fierce storm passed through the city of Kasama, in northeastern Zambia. The Bethsaida Seventh-day Adventist Church had just wrapped its worship and lunch as dark clouds brewed overhead. People scattered, eager to get home before the deluge, but some were forced to take refuge inside the church building. Unfortunately, the downpour weakened the already failing structure, and the entire church collapsed, crushing the members inside. Five people died and many more were injured.
Adventist church leadership in Zambia reached out to Maranatha, asking for help in rebuilding the church "as [the nearly 500] members have nowhere to worship and it is the rainy season," said Samuel Sinyangwe, president of the Adventist Church in Northern Zambia. In June, Maranatha launched a $600,000 fundraising effort to build a large church complex that will include seating for 500, six Sabbath School classrooms, bathrooms, and a well. More than 900 people gave to the effort, allowing Maranatha to reach the goal.
In November, 19 volunteers headed to Zambia to start construction at Bethsaida. After a grueling, 15-hour bus ride that lasted two days, the team arrived on site and jumped into action. Halfway through the project, they have already completed blocking two classrooms and started work on another set of rooms and the actual church.
On Sabbath, volunteers worshiped with the Bethsaida congregation at a nearby school. After the service, they met with some of the members who had been injured by the church collapse.
"It was an absolutely amazing, meaningful, heart-tugging and rewarding experience for everyone," says Susan Woods, Maranatha's medical services coordinator and the project coordinator. "In some homes we were invited inside to sit on their best tiny benches or chairs. At others, we sat on cloth or maize meal sacks spread on the ground beside the house. We had the opportunity to visit with each one, hear from them, meet their families, share comfortable Bible promises, sing… and pray for them. We ended visits with hugs, handshakes, and big smiles – and all of our hearts warmer for having experienced a small taste of heaven."
When complete, the structures will not only serve the congregation but also open as a primary school. There is a government school in the area, but it has 1,200 students meeting in three shifts each day. The Bethsaida campus will help with the overcrowding by providing a second school in the community.