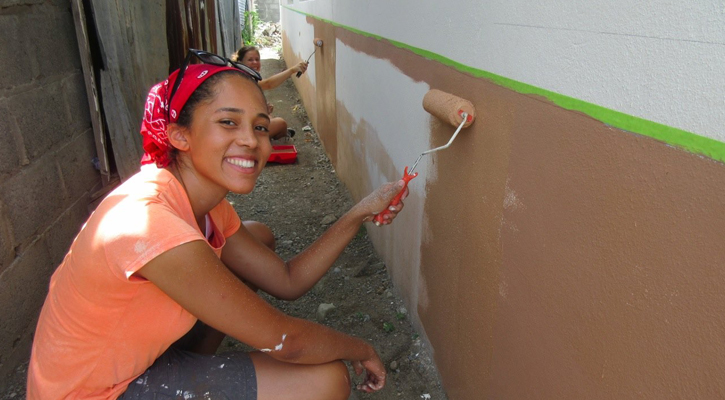 The last two weeks have been full of laughter, sweat, and songs day and night. Maranatha's 26th annual Ultimate Workout (UW) for teenagers wrapped up in the Dominican Republic on Sunday. The large group of 136 volunteers split into smaller groups, and each group 'adopted' a community. The volunteers deeply impacted four communities, not only through construction or painting of the church, but through ministry as only teens can do it!
The creative ministries included prayer walks, medical clinics, gift bags, crafts, games and hand massages. One of the clinic nurses had the idea to connect and serve through massage. So teens came armed with sweet-smelling lotions, and spent a few minutes talking with and massaging patients' hands before they saw the doctor.
'It was kind of awkward at first,' says Metzeri Camacho, a three-year UW veteran. 'But after awhile everyone wanted one. You could tell from their hands they were used to doing hard work.'
The teens gave massages to all the women, from toddlers to great-grandmothers!
Meanwhile, other volunteers were pouring cement, stacking blocks, building walls, and leading out in songs. But at the beginning and the end of every workday, all the teens and staff gathered to worship and to pray. 'I really enjoy the spiritual feeling that one has during UW because everyone is so connected to God during those two weeks. Its nice to have that time to remind you during the rest of the year,' says Camacho.
This summer, many teens took a physical step in their spiritual journey. On the final Sabbath of the project, 37 participants and staff members stepped into the baptismal pool to dedicate their lives to Jesus.
Gaby Alcaraz brought her younger brother along this year because she wanted him to experience what she had the previous four summers. He ended up being one of those who chose to be baptized. Says Alcaraz of their new post-UW reality, 'Everything is joy and it's really awesome.'
If you would like to receive information about the Ultimate Workout for teens next year, write us at uw@maranatha.org or call (916) 774-7700.