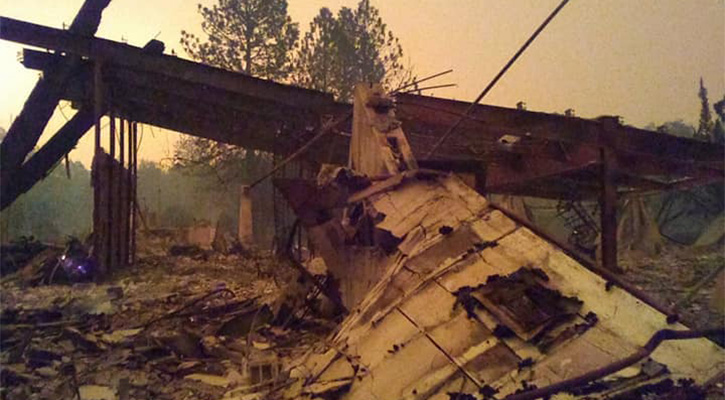 Last week, communities in California have suffered significant loss because of wildfires. The largest and most destructive wildfire in California recorded history is the Camp Fire in Paradise, which is burning 80 miles north of Maranatha Volunteers International's offices in Roseville. The entire town has been demolished, including the Paradise Seventh-day Adventist Church and parts of Paradise Adventist Academy. Thousands are homeless as more than 9,000 homes and structures have been destroyed as most recently reported in the media.
Maranatha has been praying for the community, especially as members of the staff have family members and many friends who have lost homes in the fire.
Concerned volunteers and donors have asked if Maranatha will be involved in assisting Paradise and other regions impacted by the fires. Maranatha is not a disaster response organization, and we are not involved in any relief efforts. In these first few weeks following a natural disaster, affected areas need basic care and supplies. There are numerous organizations that are trained and equipped to respond to these situations.
Maranatha has been in contact with Adventist Community Services (ACS) in Northern California concerning the emergency in Paradise. Currently, the fires are still burning, and officials are unable to fully assess the needs. When the timing is appropriate for what we can provide, ACS will contact Maranatha with information on how we can help.
According to ACS in Northern California, the best way to help is by making a cash donation to the victims. Please do not send clothing or materials; it is easier for people to purchase the needed items rather than to sort through boxes of donations. Also, there is no need for more volunteers at this time.
You can give to relief efforts in Paradise by going to the Northern California Conference of Seventh-day Adventists website. To help those impacted by the Woolsey Fire in Southern California, go to the Southern California Conference of Seventh-day Adventists website.