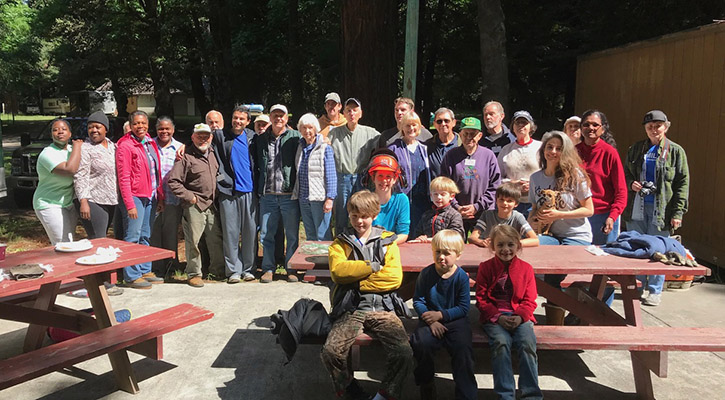 When one thinks of Maranatha Volunteers International, images of exotic locales, foreign languages, and different cultures may come to mind. And for good reason–over the past half-century, Maranatha has been active in 87 countries around the world. However, there are also many needs in North America, and Maranatha is answering the call with a host of projects in the summer of 2018.
'We have numerous opportunities for volunteers looking to serve closer to home,' explains Maranatha Volunteer Project Specialist, Lisa Emmanuel. 'Volunteers provide a huge boost to these schools, churches, and camps by painting, building additions, landscaping, and constructing new church buildings, among other major maintenance projects.'
Maranatha has always served in North America, but in the past, projects came sporadically. However, in the last few years, a concerted effort was made to allocate more resources to developing the growing number of requests received.
David Woods was designated as North American Project Director in 2015. 'To be more intentional in our response, we have connected with Union and Conference leadership to share what we are doing for churches, schools, and summer camps,' says Woods. 'We've asked them to share their needs, and are also working with North American Division (NAD) leadership to formulate a protocol for churches and schools interested in constructing new buildings."
Maranatha's Vice President of Projects, Kyle Fiess, believes it has been paying off. 'We've seen a significant increase in the number of projects we're able to handle and more intentional collaboration with the NAD,' says Fiess. In 2017, Maranatha coordinated 27 projects in North America throughout the year. The summer months alone in 2018 will see 16 projects completed in North America by an estimated 700 volunteers.
Summer camps have been a big beneficiary of Maranatha in recent years and this year's projects include Camp Hope in British Columbia, Camp Yavapines in Arizona, Camp MiVoden in Idaho, Laurel Lake Camp in Pennsylvania, Glacier View Ranch in Colorado, Leoni Meadows Camp in California, Big Lake Youth Camp in Oregon, Camp Whitesand in Saskatchewan, Camp Umqua in Oregon,  Northern Lights Camp in North Dakota, and Mills Spring Ranch in Wyoming.
A handful of schools will also benefit from renovations this summer, including Blue Mountain Academy in Pennsylvania, Milo Adventist Academy in Oregon, and Union Springs Academy in New York. Three churches will be built, including the College Place Spanish Church in Washington, the Dalles Adventist Church in Oregon, and the Chadron Adventist Church in Nebraska.
To see a list of our upcoming summer volunteer projects, click here.