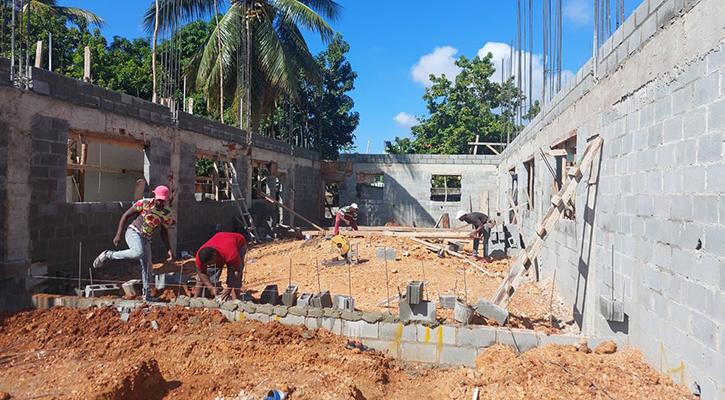 After an initial preparation period, Maranatha Volunteers International's in-country team in the Dominican Republic is in the thick of church construction at multiple sites near the capital city of Santo Domingo. Then starting in December, a dozen volunteer groups will pass through the country before the end of July 2023. At the Ureña 4 Seventh-day Adventist Church, workers are preparing the property for construction by leveling the site. Elsewhere, concrete foundations are being poured at the Refugio de Cristo and La Caleta 9 Churches.
At La Caleta 5, crews have finished a concrete slab and are now erecting the steel frame. In December, volunteers on one of Maranatha's annual Family Projects will lay the block walls here. Maranatha is also constructing two multi-level church buildings for the Prado de Celestial and Lucerna congregations.
Maranatha has a long history of working in the Dominican Republic. In 1980, after the destruction of Hurricane David, Maranatha constructed 160 houses here. In 1992, the Dominican Republic was the site of a watershed moment of growth for Maranatha, when the organization coordinated the construction of 25 churches over 70 days. Dubbed "Santo Domingo '92," it was the first time Maranatha concentrated on one place for multiple volunteer projects. Later efforts occurred in 2003 and 2013, and in 2022, Maranatha returned once more.