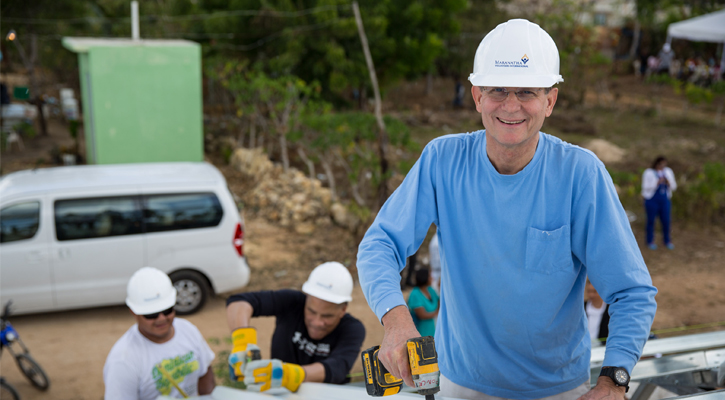 On January 14, 2015, top leaders of the Seventh-day Adventist World Church spent a day building churches with Maranatha in the Dominican Republic. The activity was part of an annual meeting for PREXAD, the Adventist World Church president's council of executive officers. PREXAD is comprised of regional presidents and other administrators representing the Adventist World Church.
The PREXAD project took place in the city of La Romana. Volunteers began construction on a new church building for the Villa Caoba congregation. They also completed the framework for a Sabbath School classroom. Other tasks included landscaping and painting existing structures on the property.
The experience not only offered PREXAD a break from administrative meetings, but also provided an opportunity for service and teamwork.
'We have a good opportunity to study the Bible together, to pray, to then look at our administrative questions. But the really exciting thing is that we're taking one full day out of that schedule in order to do a One-Day Church and work together. And there are all kinds of benefits from that,' said Ted Wilson, president of the Adventist World Church. 'You can develop a real camaraderie. You're working together as a team, you're helping the local community, and you help people see that as leaders we're not just up on some lofty plateau somewhere, but we're helping on the frontlines, and it's really an exciting opportunity.'
During the day, the group took a break from construction to dedicate a water well on the church property. The new well, provided by Maranatha, will supply the local community with fresh water. Currently, residents are purchasing water from a water truck that passes through the neighborhood.
Villa Caoba is a great, great granddaughter church of Piedra Linda. In 1991, Maranatha constructed a church for the Piedra Linda congregation. The new building triggered rapid growth, increasing membership enough to create numerous daughter groups over the years.
Watch what Adventist leadership is saying about Maranatha's mission after working on the PREXAD team.