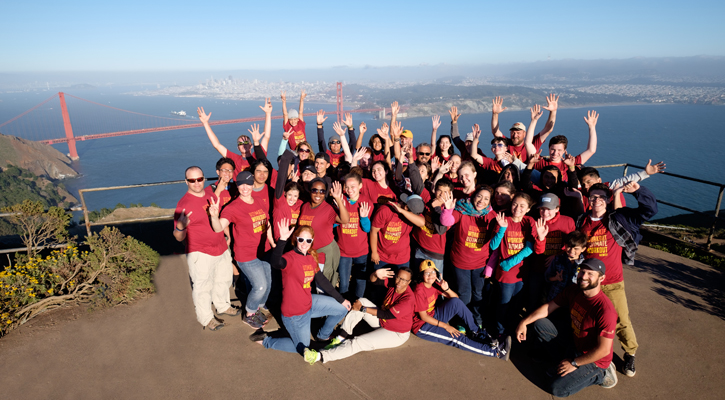 On a hot summer day in Oakland, California, a group of teenagers are painting the wall of a school building. Another dozen are picking up trash at a nearby park. A separate team is preparing crafts for small children.
None of them are getting paid. They aren't working off community service hours for a parking ticket nor fulfilling a required school project.
It's a mission trip, and these teenagers have paid to serve as part of Maranatha Volunteer International's teens-only project called the Ultimate Workout. Typically, this project takes place overseas, but when families began requesting service opportunities in the United States, Maranatha created Ultimate Workout-USA. The North American version of the project debuted last year at Milo Adventist Academy in Oregon.
This year, Maranatha partnered with the Seventh-day Adventist Church in Northern California to hold the Ultimate Workout in Oakland. The collaboration was part of the Bridges Initiative, a Northern California and Central California Church plan to reach the city of Oakland through community service programs, evangelistic meetings, and church plants. The Ultimate Workout volunteers assisted with the community service aspect of the initiative.
During the ten-day project, the volunteers helped with free dental, medical, and eye clinics for the community; led out in Vacation Bible School; participated in a cleanup effort at a local park; painted the exterior of Immanuel Temple Adventist Church; and assisted with renovations at Golden Gate Academy.
Volunteers came from all over California and the rest of the United States, including Colorado, Michigan, and New Mexico.
Seventeen-year old Meaghan Gano came to the Ultimate Workout after hearing about the mission trip on Maranatha Mission Stories, Maranatha's weekly television show.
'I've always been interested in going on a mission trip. It's just that my parents were reluctant to let me go out of the country without them,' says Gano, who lives in Tennessee. 'So this was the perfect opportunity because it's in the country, it wasn't super expensive, it was affordable, and it was perfect timing.'
During a time when most teenagers would rather be enjoying their summer break with friends and relaxation, Gano spent her days camping on the baseball field at Golden Gate Academy and waking at 6 a.m. to face a full day of painting in the sun. But Gano wouldn't have it any other way.
'I'm so happy that I came. I kind of don't want to go home!' Says Gano. 'Everybody is so nice, and I'm having a really great time. It's awesome here.'
Even those from California had a true mission experience on Ultimate Workout. Anzarath Chavez-Duron, age 15, traveled the shortest distance—she is a member of the Oakland Spanish Adventist Church and lives just ten minutes away from base camp at Golden Gate Academy. Chavez-Duron was one of the most enthusiastic participants in the group, particularly because the mission was serving her hometown.
'I was excited to hear that they were going to renovate Golden Gate because being from Oakland, the Oakland Spanish Church uses the campus a lot, especially the gym and the kitchen for fundraisers. Seeing this campus old and broken up…made me want to rebuild it,' says Chavez-Duron. 'People think you have to travel across the country [for a mission trip] to feel God or do a big impact, but I think the cities are the places that need the most improvement and need to be reached the most.'
At the end of the project, the young volunteers had racked up an impressive list of accomplishments. But beyond the long list of completed tasks, the teens achieved a more important goal: a closer walk with God.
Each day on Ultimate Workout began and ended with worship. Twice a day, volunteers gathered to sing, pray, and study the Bible. For 14-year old Micah Kontes, the experience was transformative.
'It's felt like God's been here. It's like He came down. It's like He had his hand upon us,' says Micah Kontes, from Sacramento, California. 'This trip has been life-changing. This past week before I came I probably would have been a little hot-headed and mad, and I would have never said that.'
Kontes says that the Ultimate Workout was his parents' idea; participation wasn't offered as a choice. He wasn't happy about being forced on a mission trip, but just a few days in, he says he felt the Lord working on his heart.
'I feel like God has humbled me through this trip in multiple areas that I've been a little bit bad in. God's taking a hammer and toughening the bad spots out,' he says, with a smile. 'So this trip has been life-changing because the things that I don't do as God would like me to do now—He'll help me with them. This trip's a start for things I can do for myself and for other people.'