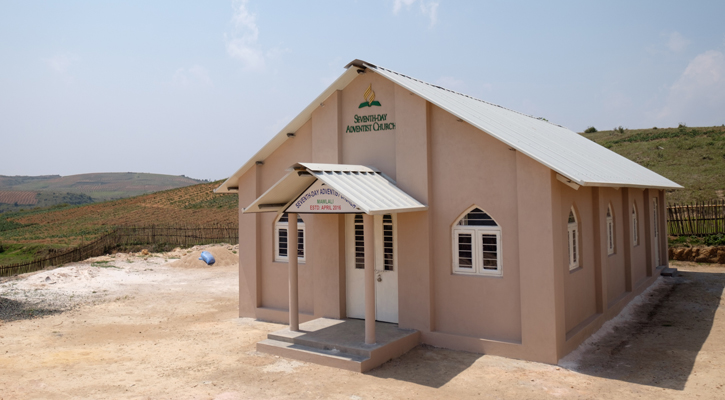 Debuting a new design for churches in India, Maranatha celebrated the dedication of the Mawlali Seventh-day Adventist Church, in Meghalaya, India, on April 30, 2016. More than 100 people attended, including several Adventist Church leaders representing the Khasi Jaintia region of the state.
The new design has capacity for more than 125 people; depending on seating arrangements, the structure could fit up to 200. The structure also features design elements unique to Maranatha churches in India. There is a small portico at the entrance, brick walls with stucco, paint, arched windows, and even stained glass windows at the front of the sanctuary.
The church, constructed by Brazilian volunteers last January, will serve Adventists in Mawlali, a small village outside the city of Shillong. Previously, members had to walk several miles uphill to an Adventist church in the neighboring town. The congregation outgrew its facility, and the group decided to divide into two. The second location will not only be convenient for those residing in Mawlali, it will also establish an Adventist presence in the village.
Mawlali is one of the 30 churches that Maranatha hopes to build in India in 2016, along with two schools. Not all of these projects have been funded. Churches in India are $20,000. Go to www.maranatha.org/donate or call (916) 774-7700 if you would like to make a donation.