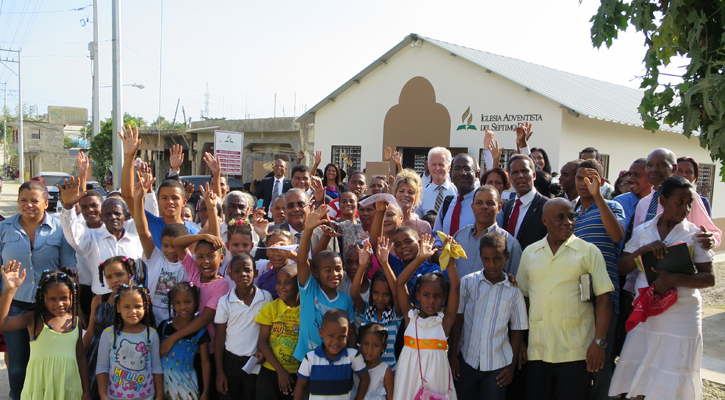 On September 4 and 5, 2015, Maranatha celebrated the dedication of four churches in the Dominican Republic. Hundreds gathered for the ceremonies, including Cesario Acevedo, president of the Seventh-day Adventist Church in the Dominican Republic.
The churches were constructed by Maranatha volunteers. The basic structure provided by Maranatha includes a roof, floor, block wall, Sabbath School classrooms, platform, baptismal tank, plaster, and paint. Since completion, the congregations have added their own architectural and decorative details, including tile floors, drop ceilings, and landscaping. In total, the four new churches will provide seating for 575 people. 
"The dedication of a church is the final step in the long process that starts with years of prayer, close interaction with church leaders, generous contributions from donors, time and energy commitment from volunteers and the overall blessing of Jesus Christ," says Don Noble, president of Maranatha Volunteers International, who attended the ceremonies. "The dedication is the culmination of all the things that Maranatha does to be part of the process of growing God's Kingdom."
This is the third installment of church dedications of Maranatha's most recent effort in the country. In Maranatha's history, this is the third large-scale church construction effort in the Dominican Republic. In 1992, Maranatha constructed 25 churches in 90 days, mobilizing 1,200 volunteers into Santo Domingo. Then in 2002, Maranatha returned at the request of the Adventist Church with a commitment to build 50 churches. In 2013, Maranatha kicked off the third effort with 19 churches and 13 Sabbath School classrooms completed so far, and the construction effort is scheduled to continue through 2016. 
The Dominican Republic has nearly 300,000 baptized members of the Adventist Church, according to the Office of Archives Statistics and Research.