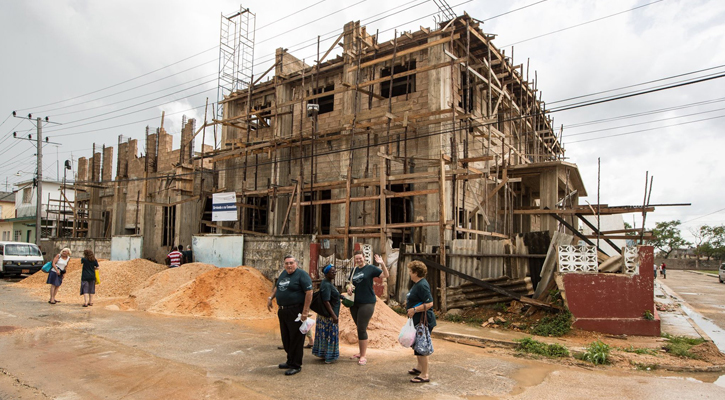 In June, 30 volunteers with Maranatha Volunteers International traveled to Cuba, where they assisted with the construction of the new Cardenas Seventh-day Adventist Church.
While in the country, volunteers worked alongside local crews to build the two-story sanctuary and also held dental clinics and children's outreach activities in the local community.
It was a special mission trip for Maranatha as it was the first volunteer project in Cuba in 16 years. Despite having worked in Cuba since the mid 1990s, political complexities made it nearly impossible to mobilize volunteers on the 200-plus Maranatha projects completed in Cuba. The opportunity to serve in Cuba opened up just a few months ago. Maranatha crews were in the beginning stages of constructing the Cardenas Church. Maranatha quickly organized a volunteer team to join the process, recruiting participants from an interest list that has been growing over the past several years.
The project is also special because of the church history. The Cardenas church was established in the 1930s and suffered through much ridicule and persecution for their faith. But the congregation persisted and eventually outgrew their space. Each Sabbath, they had to start putting up a tarp and benches outside the building to accommodate the membership. They urgently needed a bigger church, and when Maranatha arrived in Cuba in the 1990s, rebuilding Cardenas was on top of the list.
'When we first started in Cuba, I used to meet with the Union president, Daniel Fontaine, on a regular basis. I can recall at one of the first meetings, he brought a list of projects that were high priority for them. And on that list was the Cardenas project,' says Don Noble, president of Maranatha. 'Pastor Fontaine said, 'We really need—desperately need—a church in Cardenas."
But Maranatha was confronted with constant challenges. There were land and permit issues and financial difficulties with the project.
Jorge Gonzalez Lopez, an elder at the Cardenas Adventist church remembers the long struggle to obtain the land and building permits. '[Every time] we believed that we had everything, the permissions, well, something was missing. Our hope would vanish. We would be back where we started. It was like that, fighting for 20 years until thanks to God, God permitted that we could build this church.'
Then finally, in 2014, the government approved the Cardenas project, and in late 2015, crews broke ground on the project. The new sanctuary, designed by Maranatha's architect, is two stories tall and approximately ten times the size of the original church with capacity for 500 people.
Vastly different from the simpler structures Maranatha builds in other countries, volunteers were more limited in what they could do on the church construction site for safety reasons. Instead, they worked alongside hired construction crews to assist on various tasks. Several on the local construction team were members of the Cardenas church.
Danielle Casseus, a volunteer from Florida, worked side by side with the members on the job site. 'It increases my faith to see how they're diligently working for something so hard and it makes me want to work even harder alongside them to see this thing come to reality, even if we're here for just a few days,' says Casseus. 'It's been a pleasure meeting everyone, talking to them, hearing their stories. So it's been an encouragement to me to carry on and keep praying and having faith that you pray for something, God's going to make it happen, in his own time.'
Cardenas is located on Cuba's northern coast, about 74 miles east of Havana. The city has a population of about 137,000 people, and frequent tourists, due to its proximity to beautiful beaches and resorts. There are more than 200 Adventists in Cardenas and more than 33,000 in Cuba, overall. The Cardenas church is to be dedicated in early 2017.