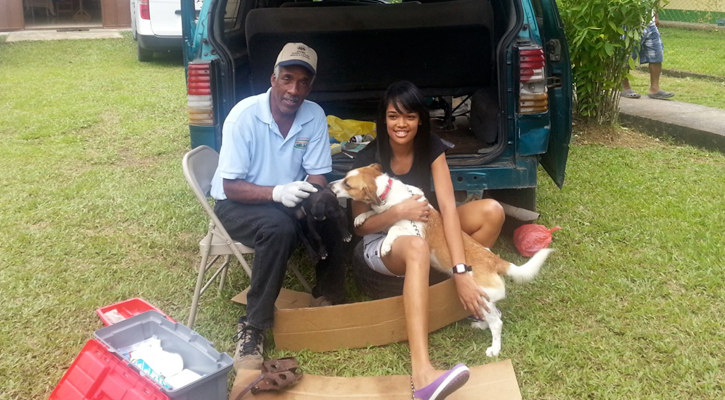 It's not unusual for Maranatha volunteers to organize health clinics and children's ministries in conjunction with a construction project. But outreach for local animals? Well, that's out of the ordinary. Yet a recent project showed that serving a community can mean tending to all of God's creatures.
In early February, 66 volunteers with the Panama Open Team built a new sanctuary and Sabbath School classroom for the Las Tablas Adventist Church, located about an hour outside of Changuinola and very close to the Costa Rica border. In addition to construction, the group organized children's programs and medical clinics in various neighborhoods. But the presence of a local veterinarian on the team introduced a new form of outreach: a veterinary clinic.
Victor Barrios is a veterinarian and a member of the Finca 12 Adventist Church in Changuinola. He has been instrumental in helping Maranatha staff plan projects in the area. During one of the planning sessions, he offered to lead a mobile veterinary clinic. Intrigued, Maranatha integrated the concept into the Panama Open Team project.
The outreach was a success, drawing many people and their livestock. One day, Barrios and his volunteer crew treated 90 animals, including dogs, pigs, chickens, and cows. The work mostly included vaccinations and vitamin distribution.
While veterinary outreach may not become a regular part of Maranatha projects, Barrios has already offered to lead a similar clinic for Ultimate Workout 25, which will also be in the Changuinola area of Panama.
Panama will be a big part of Maranatha's efforts in 2015. We need your help in providing churches and schools in this country! Please make a gift to support Panama projects.
MAKE A GIFT