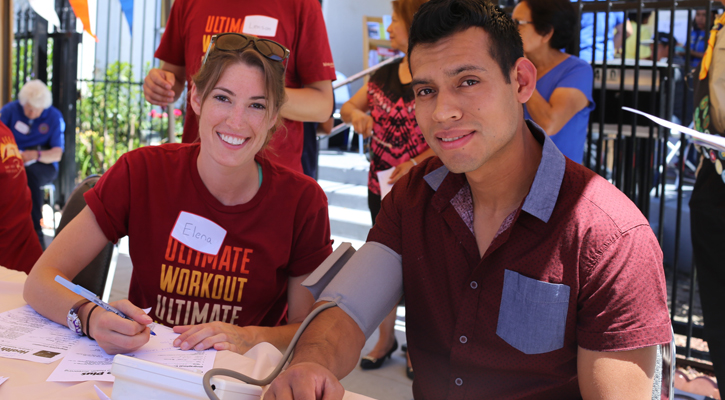 The road in front of the Oakland Spanish Seventh-day Adventist Church may have been blocked off last Sunday, but the church was wide open for outreach to its local community. On June 19, the Oakland Spanish Church took over the street for its sixth annual health fair, and this year, the event included the help of teenagers with Maranatha Volunteers International's Ultimate Workout-U.S.A.
Dressed in red t-shirts emblazoned with this year's Ultimate Workout logo, teens were scattered up and down the entire block and inside the church, hosting various ministry stations. Outside, the street was lined with booths offering massage, haircuts, blood pressure tests, and free food. Inside the church, community members waited to be seen by dentists, a medical doctor, and an ophthalmologist. Patients were treated to free consultations with a physician, teeth cleanings and other dental work, and eye examinations and free glasses. Volunteers assisted by coordinating registration for the clinics and running the health education program. A handful of teenagers were also selected to work directly with the physicians in treating the patients.
The workday began early in the morning with set up, and the actual fair lasted from 10 a.m. to 4 p.m. In those six hours, the combined medical teams saw 103 patients.
Maranatha organized this year's medical and dental clinics in partnership with Caring Hands Worldwide, a non-profit organization focused on providing free dental care to populations in need of dental service, using portable equipment. All medical staff volunteered their services for the day.
The Ultimate Workout-U.S.A. is Maranatha's teens-only mission trip in the United States. The project came to Oakland, California, this year, bringing 29 high school students to the city for 10 days of service in the form of construction and outreach. One of the larger outreach activities included the health fair at the Oakland Spanish Church.