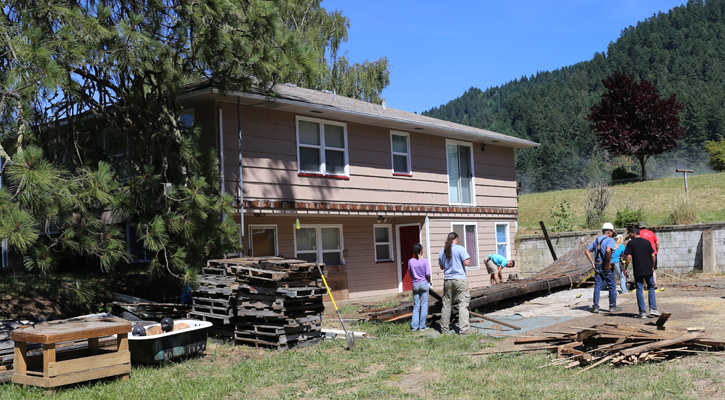 More than 130 volunteers with Maranatha Volunteers International worked on the Milo Adventist Academy in Oregon as part of two different projects this summer.
School leadership requested Maranatha's help in renovating the 61-year old campus with projects ranging from landscaping and maintenance, to building new cabins for the youth camp on their 600-acre property.
The largest of the two groups was Maranatha's Ultimate Workout [UW] team, an annual project just for teens. More than 90 volunteers from across the United States and one participant from the Bahamas made a major impact by doing campus cleanup, painting the dorms, rehabbing staff housing, and doing outreach in surrounding communities.
Though Maranatha has been offering Ultimate Workout for 25 years, this is the first time it has taken place within the United States. 'Milo was the perfect place for us to launch this first UW on American soil. One of the things that really stood out was how supportive the school was to having young people work on their campus,' says David Lopez, director of volunteer projects at Maranatha.
The next Ultimate Workout U.S.A. is already scheduled for June, 2016. 'We realized that God isn't waiting for us in Panama or another country. God works right here at home, too,' says Lopez.
In August, a second wave of Maranatha volunteers came to Milo. The group of 40 men and women lent their skills to frame four new cabins at the onsite youth camp, Camp Umpqua, paint dorms, and provide maintenance for other buildings and campus features.  
A small volunteer team is scheduled to return in the fall to get the new buildings ready for winter.