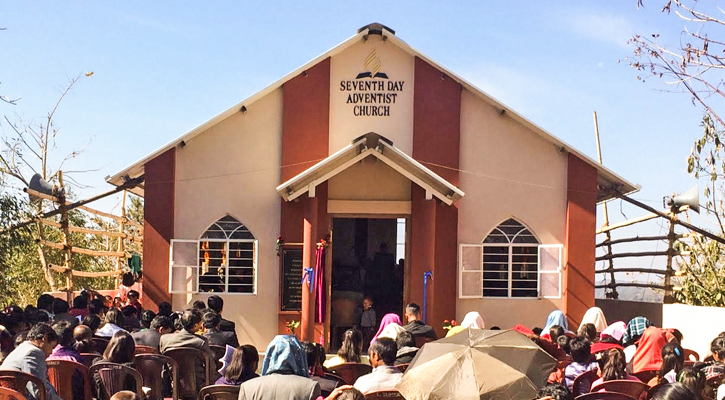 All mission trips demand a certain amount of flexibility. This is a fact that the Seniors in Action for God with Excellence (SAGE), a retiree organization based in Washington, knows well. They've been on multiple Maranatha projects—all of which required adaptability due to unforeseen circumstances.
But on their 18th mission trip with Maranatha, SAGE was forced to take flexibility to a new level when a winter storm threatened to derail their project. On the night of their departure for India, volunteers learned that their flight was cancelled; rebooking tickets took another couple days. Given that it takes almost two days to get to India—then another flight to their site in the northeastern state of Meghalaya—the news was a blow to SAGE. But it wasn't the end of their travel woes. The delay at the beginning had a domino effect on their itinerary and caused an additional delay of four days at a connection in Abu Dhabi!
The challenges would have been enough to cause first-time volunteers to cancel the trip. After all, there were now only four work days left for a long list of tasks. But SAGE charged ahead in faith. And in just four days, the 34 volunteers built the brick walls of the Cherrapunji Seventh-day Adventist Church, saw 800 people in medical clinics, and coordinated a children's ministry program for the community.
There was another reason for SAGE to push forward despite the numerous hurdles. An important part of the project was to paint and dedicate the Mawphlang Seventh-day Adventist Church in memory of Marguerite Anderson, longtime SAGE member and Maranatha volunteer. Anderson, who died in 2015 just two days shy of her 98th birthday, had been to 67 countries in her lifetime—most of them on SAGE mission trips.
'Marguerite was 91 or 92 years old when she went on her last SAGE overseas mission trip with us, and she was just such a darling. I mean, you're never too old to go on a SAGE trip,' says Al Griffone, SAGE member and Maranatha volunteer. 'I know it gave her great satisfaction to be able to work with Maranatha and to be able to work with SAGE and to be able to provide service to the Lord.'
'And we just thought why not do something to remember Marguerite?  She was such a special lady to us as SAGE members,' says Bob Grady, project coordinator for the SAGE team. 'So we thought why don't we set up this church that we're going to do in India as a memorial to her memory?'
So SAGE raised money in Anderson's memory, funded the Mawphlang church, and invited Anderson's children to join the project. At the end of the week, everyone gathered at the church for a special program in honor of Anderson. Volunteers shared memories of Anderson, and SAGE installed a plaque honoring her dedication to missions.
It was a meaningful close to a special mission trip. The project had started in a whirl of panic and uncertainty, but it ended just as it should—celebrating the spirit of service and the call to share God's message with the world.
'When we build churches and we memorialize them in the name of people that have been faithful SAGE workers, faithful Maranatha workers, it provides an example to all of us that the Lord has been using those people to help spread the Gospel in those areas where we were at,' says Griffone.