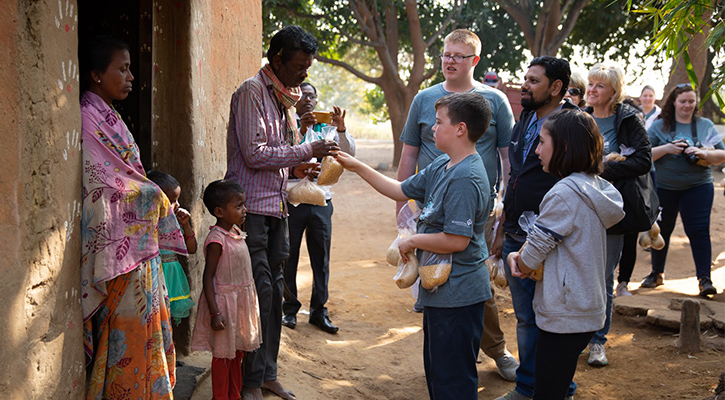 This past Christmas, sixty-one people experienced the joy of service on Maranatha Volunteers International's Family Project in India. Volunteers, ranging in age from one to 85, spent the holiday laying block on a multi-classroom structure at the Khunti Seventh-day Adventist School in eastern India.
The team also coordinated a medical clinic and other outreach programs in the surrounding community. The youngest volunteers were especially active, spending mornings at the construction site, then doing outreach and cultural activities in the afternoons.
'I was really excited about the cultural experience because I wanted to see how the other people live in these countries that they don't have enough of what they need,' said Caleb Couch, a 10-year-old volunteer.
Volunteers also had the opportunity to interact with the students at Khunti, which has more than 1,300 students from all religious backgrounds. For many, the school is their first introduction to Jesus. However, according to school officials, anywhere from 200-300 children have to be turned away due to the lack of space.
Some of the existing campus structures are also in need of renovation. The school was established in the 1930s, and several of the buildings are in poor condition due to wear and tear. The new facility will go a long way in providing additional and improved space.
'Their learning environment right now is not as good as it could be,' said Anella Poljak, who at 15 years old has already been on 10 family projects with Maranatha. 'I think that the fact that some Christians and followers of Christ decided to come and do this for them shows how much Jesus actually loves them. And I think that will make an amazing impact on them–and not just on this generation, but on future generations to come.'
The project in India was one of two family mission trips offered during the Christmas holidays. The other project took place in Bolivia, where volunteers helped construct the Dios Proveera and Chimba Seventh-day Adventist churches.
Maranatha offers two to three family projects annually, typically in June and over Christmas. From construction to outreach and worship, the mission program is specially designed for volunteers of all ages, providing a unique opportunity for families to serve together.