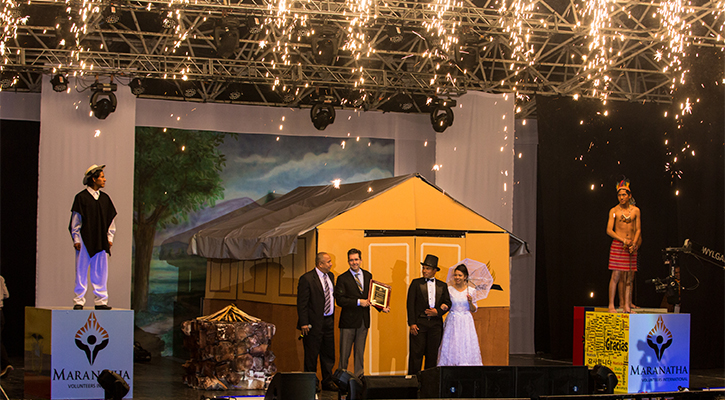 In an inspiring celebration filled with music, drama, and testimony, the Seventh-day Adventist Church in Ecuador celebrated the completion of 219 Maranatha buildings with a special program called the Festival of Gratitude.
On Tuesday night, July 15, more than 5,000 people crowded into a convention hall in Quito for the event. The program included an original Maranatha song, composed by church members, a sermon by Adventist speaker Alejandro Bullon, and a sketch that depicted volunteers constructing a church. Later in the program, 60 people were baptized in the church.
Then, as a way to share the blessings received, a representative from each of the newly constructed churches brought offerings to the stage for Maranatha's current effort in Angola.
Ecuador will hold a second event in Guayaquil tonight. A year in the making, church leadership organized the festival as a way to thank Maranatha and motivate members to give—just as others had done for them.
Representatives from Maranatha, along with volunteers, attended the events.
Maranatha worked in Ecuador from 2007 to 2013. More than 3,200 volunteers helped in Ecuador during this time.