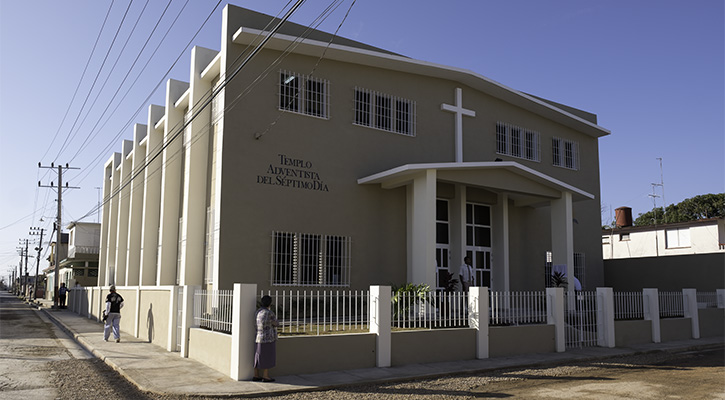 Nearly two years after the dedication of the Cardenas Seventh-day Adventist Church in Cuba, the congregation is thriving. They have already recorded 25 baptisms, thanks to evangelism meetings at the new church and the flow of outreach into the community.  
Most recently, the church launched a program to provide purified water to their neighbors. Earlier this year, the congregation invested in a water filtration system and installed it on the church property. Now, the church is opening the pump area to the community, several times a week, for people to collect free filtered water. The initiative has been an effective way to serve the community and provide opportunities for positive interactions.
Maranatha started construction on the new Cardenas church in 2016, after waiting more than 20 years for the Cuban government to grant construction permits. It was completed and dedicated in April 2017. The facility is 12,000 square feet and has seating for 500 people in the main sanctuary, with more on the second floor. There are Sabbath school classrooms, a fellowship hall, bathrooms, and even showers. The building was designed to accommodate worship for the local congregation while also serving as a place for convocations and retreats.
Previously, the congregation met in a small building, about the size of a two-car garage in the United States.
Cardenas is just one of approximately 200 projects that Maranatha has completed in Cuba. Currently, Maranatha is helping to renovate an Adventist church in San Antonio de los Baños, located 16 miles outside of Havana.