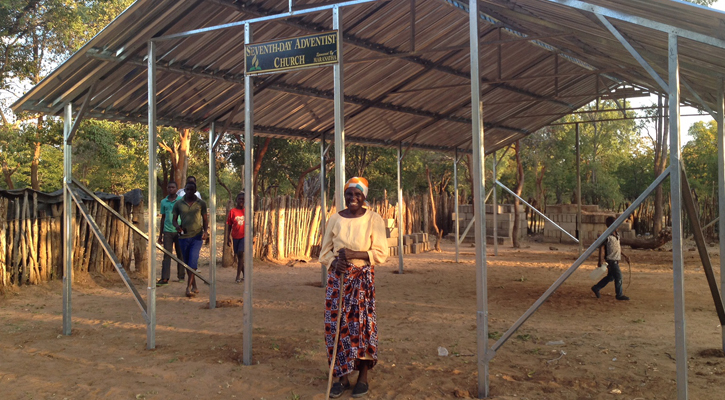 Noni Moyo was just a baby when her family, along with three other families, established a Seventh-day Adventist group in Moyeni, Zimbabwe. They had no church building, and they met under a tree. The year was 1936.
Noni, now 80 years old, doesn't remember the early years of the Moyeni congregation. But she remembers the group growing over time and having to move to a new tree when she was 10 years old. Six years later they moved under the shade of yet another tree. The congregation grew stronger and stronger, and eventually outlasted the tree; it finally withered and died.
'We constructed a simple structure that finally got damaged by termites a few years later. But we didn't stop there. We constructed another simple structure made of poles with grass on top. This one lasted for some time. But it was also destroyed by termites,' says Noni.
So the Moyeni congregation continued to move and build and rebuild their church. In the meantime, the members dove into outreach programs and evangelistic meetings, drawing people from miles away. The membership grew to more than 150. Four years ago, they decided to divide into two groups and then three.
It was around this time that Noni and her friends started molding cement blocks in hopes that one day they would have a permanent place of worship. But even as the pile of blocks increased, the congregation had no way of purchasing a metal roof. Most people in the village are poor farmers with little to no extra income. All they could do was pray for a miracle.
'I longed to see God doing something for our poor church—to provide a better church before I died. This was my prayer,' remembers Noni. 'When I look at the various places we have been gathering, I cry.'
Then, in May 2016, Noni's tears of grief turned to tears of joy. Maranatha Volunteers International had heard of their plight, and a construction crew arrived to build a One-Day Church in Moyeni. The structure provides a galvanized steel frame and roof, designed to allow local church members to build the walls.
'This is amazing, all this happening here! I thank God for giving us this permanent structure. My joy is overflowing with what Maranatha has done for us,' says Noni. 'I wish my heart had a window so that the donors could see how happy and thankful I am!'
Noni believes the new structure will attract more interest in the Adventist Church. Before, people were skeptical of worshipping under a tree or in flimsy grass buildings. She says, 'Here, in Zimbabwe, we really need more permanent structures like this one. I believe this One-Day Church will be a powerful tool to reach more people.'
Maranatha has constructed 350 One-Day Churches in Zimbabwe, to date. In 2016, the goal is to provide 75 One-Day Churches for villages like Moyeni; crews have constructed 25 this year.
There are One-Day Church projects that still need sponsorship. If you are interested in helping Zimbabwe, please make a donation to the One-Day Church. You can help a congregation that has been waiting for an answer to prayer by sponsoring a One-Day Church for $4,500. Or make a general donation of any amount to projects in Zimbabwe.