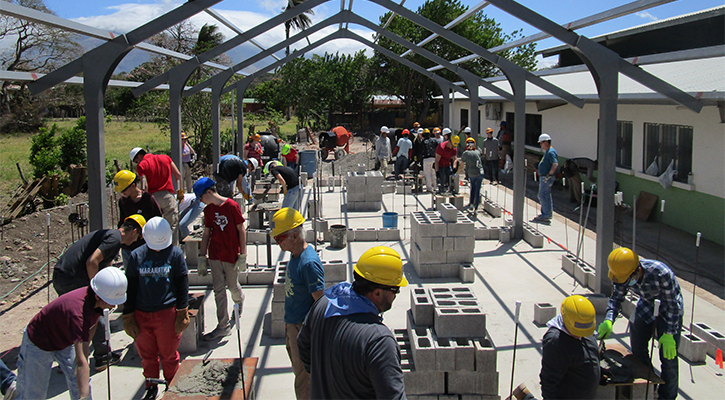 At the end of March, 106 volunteers from 11 separate groups joined together in Costa Rica for Maranatha's annual 'Multiple Group' mission trip, focusing on work sites near the town of Guayabo. Volunteers helped construct a kindergarten classroom for the Guayabo Adventist School where Maranatha previously built a large school building in 2000. They painted the Agua Claras and Bagaces Seventh-day Adventist Churches, provided children's programs in the community near each work site, and led an interactive health education program.
First-time Maranatha volunteer, Suzanne Dizon, came with a group from Sacramento Adventist Academy in California. She served on the children's ministry outreach team, the construction site at the Guayabo school, and as a translator. 'The children were so adorable!' said Dizon. 'It was so much fun to be able to sing together and hear their little voices praising God with us. I loved sharing with them about God's love and seeing them get so excited about our time together.'
On each Sabbath during the trip, volunteers worshipped in the local churches. 'I loved talking with the church members,' said Dizon. 'They were so warm and welcoming. Worshiping and visiting with them was very special and created a connection of the heart as part of God's extended family together.'
At the conclusion of the trip, volunteers not only completed much of the new kindergarten classroom but gave an offering to help pay the tuition for several new students to begin attending the school.
'It's great to get to have a part in creating a space where children will be safe and will be learning about God's love for them for many years to come,' said Dizon. 'It's a joy to be part of something that has such positive impacts, both immediate and eternal."